---
Micah was seen at the UW hospital yesterday for a bladder dynamics study. The test (called a CMG for short) measured the pressure in the bladder as well as bladder capacity and muscle use. We discovered a couple of things from this test, with mostly positive results. The test itself went well and took about 2 hours. Micah was lightly sedated and likely won't remember it. Child life brought toys and books to keep him occupied. Keep in mind that I am not a doctor and this is my understanding of the results, which may not be perfect.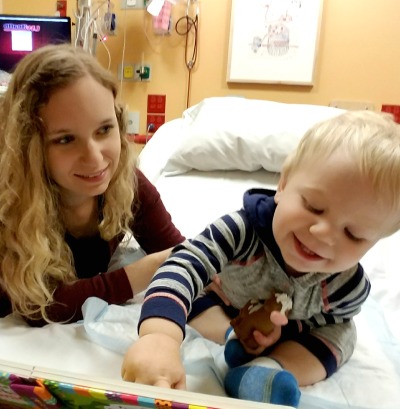 The urologist was trying to find out whether Micah has a spinal or brain disorder that prevents him from being able to empty his bladder. He has all of the symptoms of a neuroligical issue called a neurogenic bladder (similar to the bladder issues found in children with spina bifida or other spinal injuries). He has a large bladder capacity but doesn't fully empty it. On his last x-ray study it looked as though he had high bladder pressures and a thick bladder wall, leading the doctors to believe he couldn't feel how full his bladder is.
The CMG found that it does seem as though he can't feel how full his bladder is. A typical 16 month old will fill his bladder completely with 80-100ml. Micah's bladder took 180ml each time, about double what a normal bladder would hold. The good news though, is that once it is full enough to be uncomfortable in his abdomen he has the ability to use the muscles to partially empty the bladder. That would not be the result if he had a neurological issue.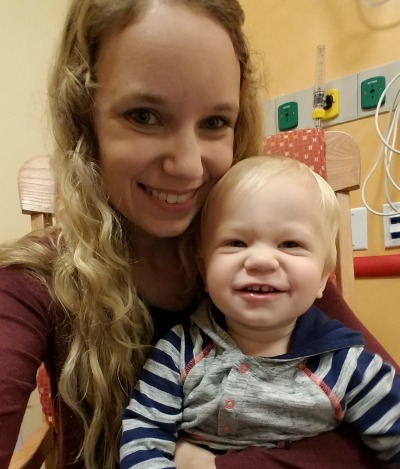 The urologist believes Micah has Hinman's syndrome. The other name is non-neurogenic neurogenic bladder. Clear as mud, huh? Simply put, Micah has bladder dysfunction for an unexplained, non-neurologic reason. It is likely just a developmental mishap which also affected his ureters and kidneys early on during pregnancy. This diagnosis is better than a neurological disorder because there is hope that he will be able to train his bladder to empty. He has muscle control to some extent and we hope to teach him how to use those muscles once he is old enough to understand potty training.
In the meantime, we will do our best to keep Micah healthy and free of UTIs. If he begins to get UTIs or further kidney damage he will need catheters several times a day to help him empty his bladder, with the hopes that he will eventually gain the ability to control urination without a catheter. Once he has control over bladder pressure, he will be able to have the surgery on his ureters to fix the reflux issue. This will likely be done around age 5, or whenever he is fully potty trained.
While we are relatively happy with the conclusions of the test, we are still concerned about his kidney function and size. The issues Micah has in his urinary tract were probably caused by the same early developmental mishap, which leads us to the Hinman Syndrome diagnosis. On the positive side, the urologist thinks this was more likely a developmental mishap than an inherited gene. She does not believe we should have to worry about Harrison or any future children's urinary tracts with this diagnosis, but we will stay on the lookout for any alarming signs.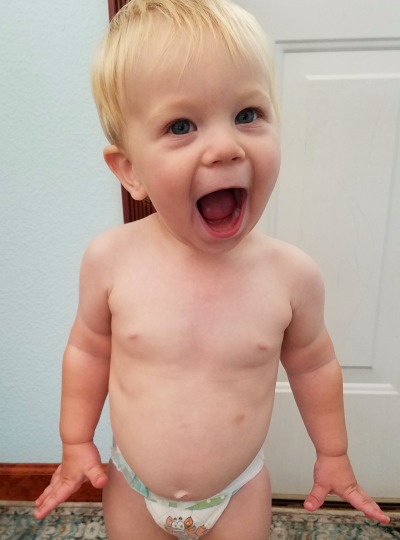 We are finally at a point where we can stop searching for a diagnosis. Micah has hypoplastic kidneys with VUR and bladder dysfunction. He has a diagnosis and treatment plan. He will only have to undergo routine ultrasounds and blood tests to check kidney function every 6 months without any other major testing. He can stay off of the antibiotics and avoid catheters unless he starts to get UTIs. He will have surgery around age 5 to further prevent kidney infections.
I know sometimes the terminology becomes overwhelming if you aren't dealing with this issue yourself, so if any part of this seems confusing I would be happy to answer any questions to the best of my ability. This has been quite the journey, but Micah is mostly just a happy kiddo.
Please follow and like us:
---
---
---