---
Today we met with a great pediatric urologist who has been studying Micah's case. We learned a couple of things and have a plan for another test, date to be determined. *As a reminder, I am not a doctor and I am only trying to convey the information as we received it and try my best not to pass on misinformation.*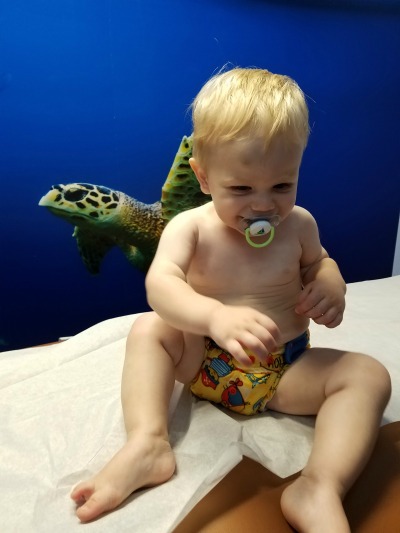 First, the good news! After turning 1, the chance of UTI in boys with kidney reflux goes down considerably. This means as long as we closely monitor Micah for signs and symptoms of UTI, we can take him off of the antibiotics!! This is such great news for our little boy who gets very sick from those medications.
Now, there are 2 possible issues we are worried about. The first is primary reflux. This means the problem could be VUR alone. That would be solved by ureter reimpimplantation surgery. While the reflux should not get worse over time, it may be possible that the first VCUG (a test with a series of xrays with contrast in the bladder) when Micah was 1 day old didn't show the extent of reflux on both sides. It did show very clearly that there was no urethral blockage, so that has been ruled out.
Surgery can not be done before ruling out a neurological disorder that keeps the bladder from emptying. This would explain why the problem appears to have gotten worse with time. This would also explain why his very first and most persistent symptom has been an enlarged bladder. There may be a syndrome associated with that issue, or it may just be a dysfunctional bladder on its own. While this issue would be a long term problem, most problematic around potty training, it may allow Micah to outgrow the reflux once he learns to control his bladder on a schedule. While we would never wish for a neurological or spinal problem, the idea of avoiding a major surgery that could lead to more complications does have it's advantages. If it is determined to be a neurogenic bladder, tests will be done to rule out spinal issues and the reflux will be closely monitored until potty training age. If the reflux does not improve by age 4 or so, reimplantation surgery may be required.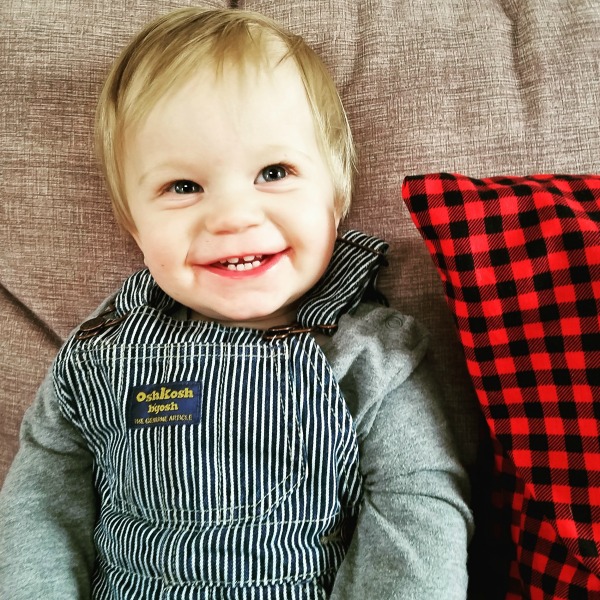 The next step is a test that measures pressure in the bladder as fluid is added (a cystometrograms or CMG). It will measure bladder size, pressure, and flow rate. If the bladder does not empty at the appropriate pressure, it is likely a neurogenic bladder. The test is similar to a VCUG. Micah will be lightly sedated and the test takes about an hour. The test will be done in Madison at the UW Children's Hospital, but it has not been scheduled yet. Sometimes it can be months to get on the schedule, but we should know more next week.
The kidney size and function is something that was determined during development and won't be changed through surgery or time. It will be what it will be, and we just have to do our best to protect his kidneys as they are. It is disappointing that we can't do anything as a quick fix, but taking Micah off of the antibiotics should at least make his day to day better.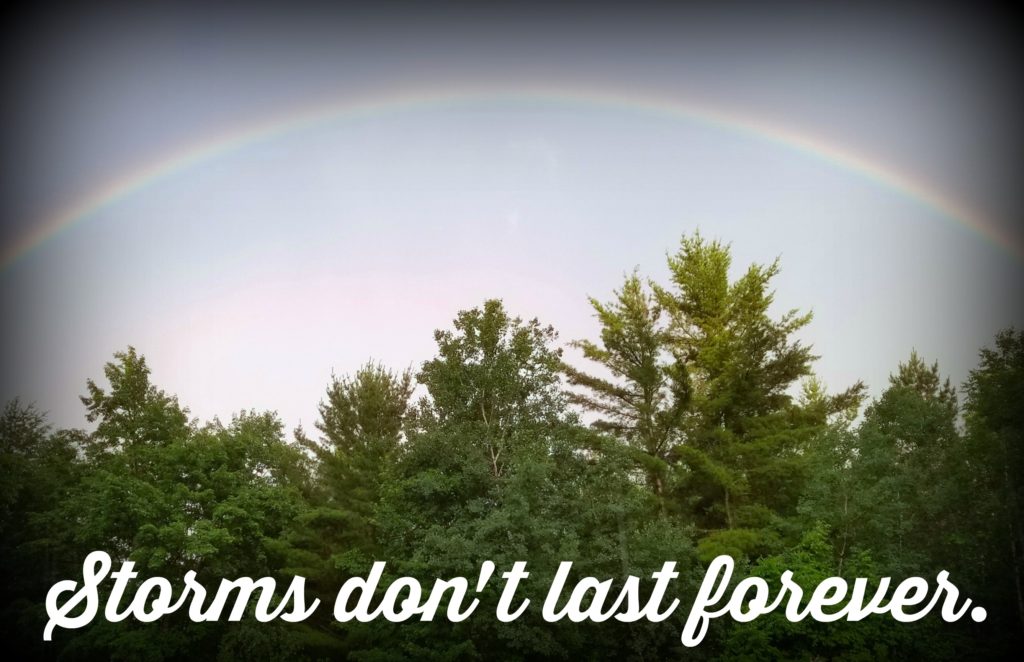 Thank you to everyone who is keeping Micah in their thoughts and prayers. We are doing our best to stay positive and the support is very comforting.
Please follow and like us:
---
Beep, beep, beep!
One of Harrison's favorite books is "Little Blue Truck". It is a really great children's book with a good lesson. "Now I see a lot depends on a helping hand from a few good friends." Harrison was pretty excited to take a trip with his dad to pick up a real life little blue truck.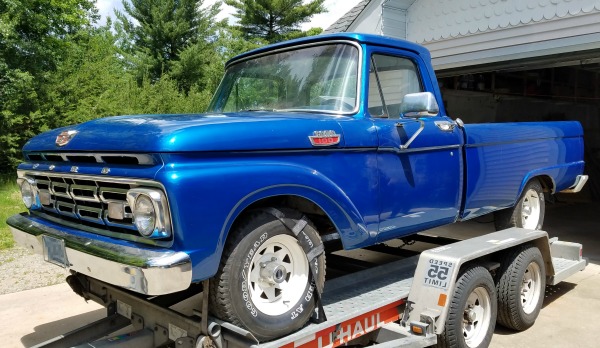 It has been a dream of mine for a while now to have a vintage truck. Ryan found this 1964 Ford F100 on Craigslist for a great deal. Of course, the truck was a great price, mostly because it isn't currently running. Ryan is confident he can fix the engine issues (the previous owner says it was just an issue with the clutch). He really didn't want to get a truck that needed body work, and this one is really great.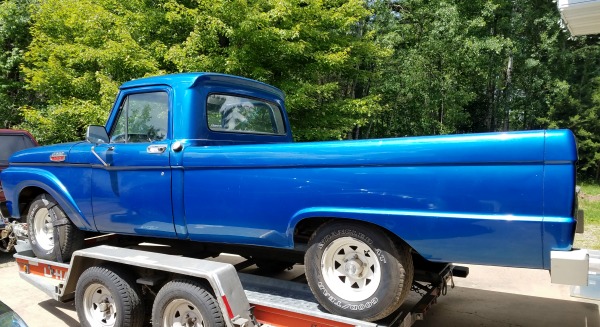 This F100 has a long bed and a custom cab, with chrome trim. It's beautiful. It has an 8 cylinder 292 Y-block engine with a 4 speed manual transmission. <— I don't know what most of that means, but I've been told it's important. I hope to learn more about trucks and engines as Ryan and I tackle this project together.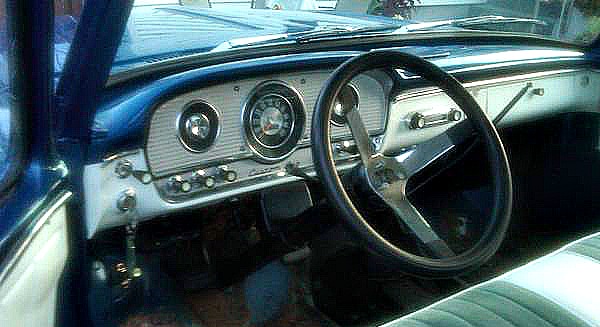 It is going to be a bit of an adventure to get this thing running and put back together. Ryan joked that since we didn't have enough going on we needed a project. For now, it is safely tucked away in the garage. Once Ryan gets it running I will have to learn to drive a manual. I'm also going to need a pig, sheep, cow, horse, goat, and big green toad to help me out when I get stuck in the mud.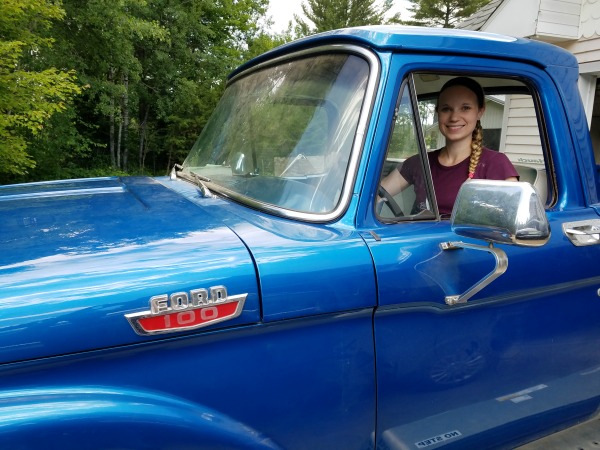 We have a lot of half finished projects going on around here and not much time to do them. We are big believers in watching the market for quite some time, finding a deal, and setting it aside for a bit if we have to. We have gotten great deals on cars, our camper, boat, and houses by patiently waiting for the right thing to come along. I hope we will have an update on this beauty soon though, because I can't wait to take it for a ride. Thanks for reading and check back soon!
Please follow and like us:
---
My garden is looking promising, even with our short growing season and the excessive rain we have gotten this year. I see buds or flowers on almost every plant and I'm really excited to see what kind of yield I can get!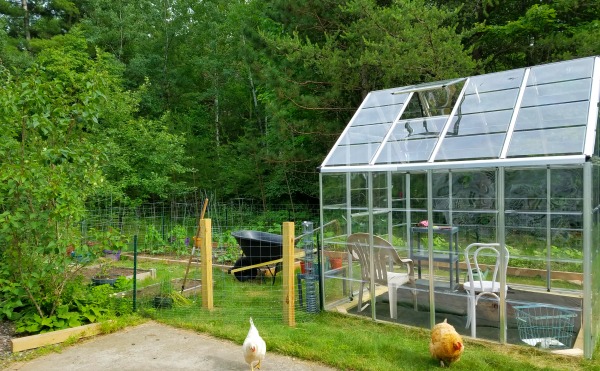 Everything has sprouted, except the rhubarb. I'm not sure why, but the rhubarb just never came up. Today I weeded it and turned the soil. I planted some green beans in the 4×4 box so it didn't seem like a waste. There is still plenty of time, so I think the beans will do well.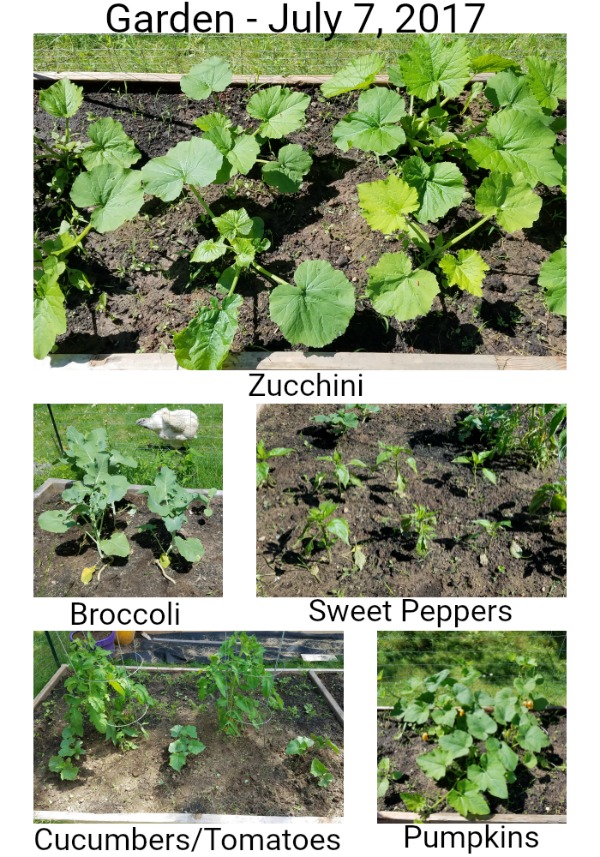 I had 3 leftover tomato plants that I put in near the cucumbers and they are doing amazing. The tomatoes I planted in the pots are drowning from all of the rain. They just don't have enough drainage and we got over 10″ of rain in June, 4″ came all at once! Just last night we got another inch of rain. I have not watered the garden since I first planted it.
The pumpkins and zucchini are growing rapidly and I have high hopes for them. Last year something ate most of the buds off of the zucchini, so I'm hoping we have better luck this year with a better fence.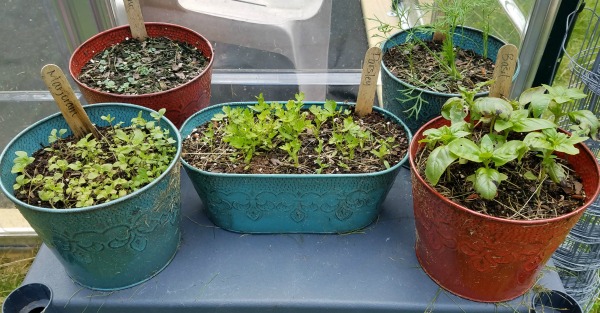 I also have sweet peppers, broccoli, carrots, herbs, and asparagus that are all doing well. I must say, I'm pretty proud! I even picked my first green pepper today. I've been feeling very lucky to have this distraction to keep me extra busy. Last night we had a beautiful rainbow after the rain. What a beautiful property we have!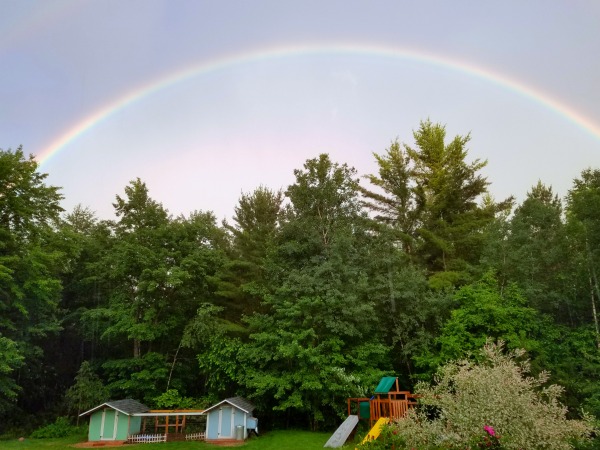 More updates to come soon! Thanks for reading!
Please follow and like us:
---
---
---