---
When Harrison celebrated his first Halloween we took pictures of him in a pumpkin. When we went to pick out pumpkins this year Harrison picked the biggest one he could find. Ryan and I both looked at it and thought, "Micah might actually fit in that one." So here we are two years later with another baby in a pumpkin.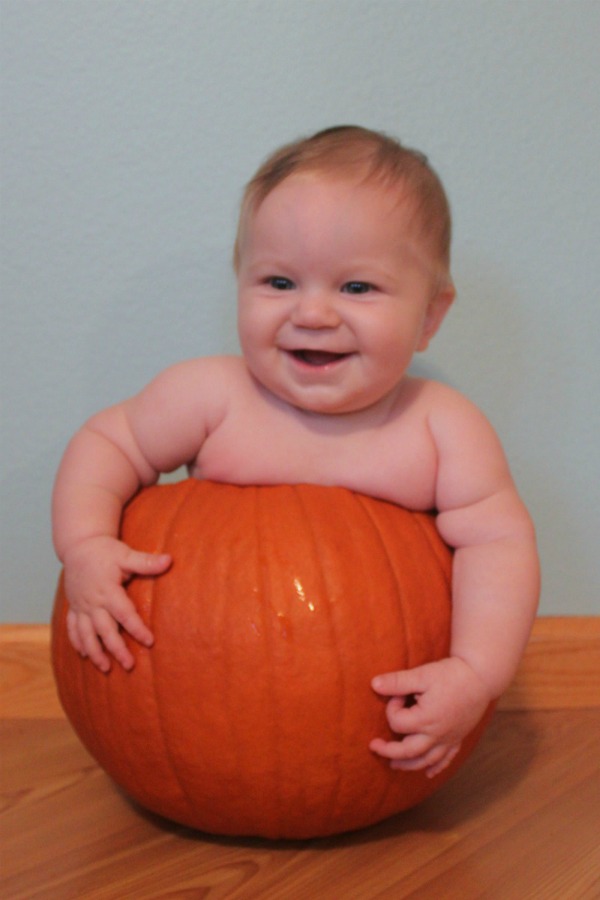 Micah actually loved it and probably would have stayed in it even longer if we had let him. He is the most photogenic baby.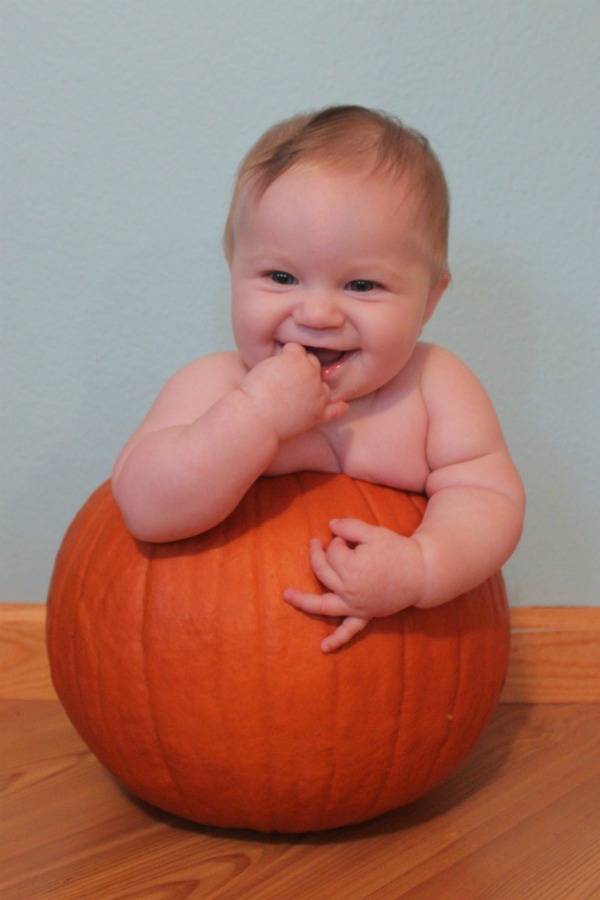 Harrison helped take pictures, but we got him in on a few too. Of course, it was after nap so Harrison has crazy hair.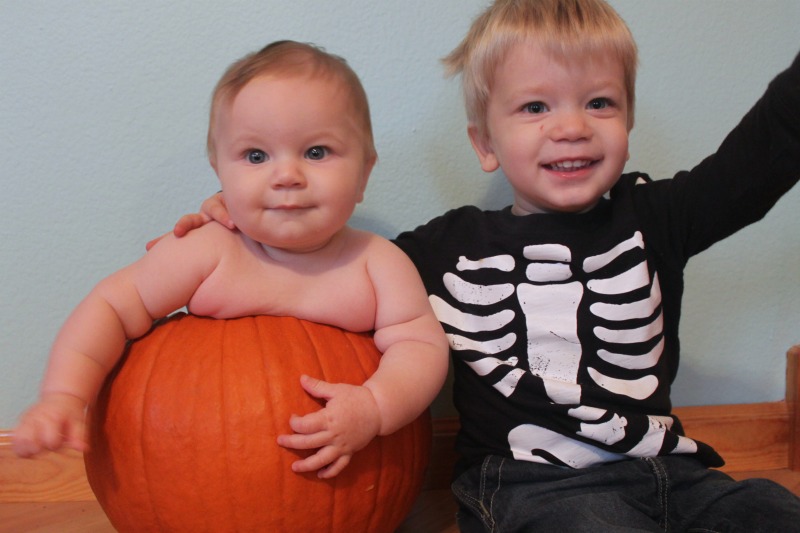 I bet you would never know they were brothers.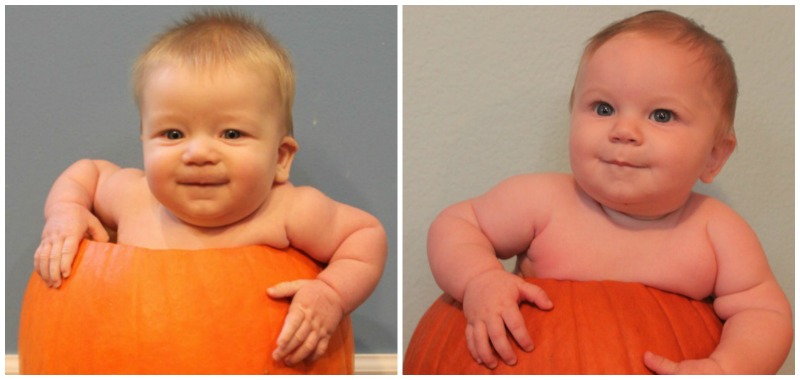 Check out Harrison's pictures from his first Halloween and don't forget to check out our other fall pictures if you haven't seen them already!
Please follow and like us:
---
I'm about a week late again, but I wanted to get Micah's official measurements from the doctor and his appointment wasn't until yesterday. I had to do a double take at the scale (much like when he was born) because he weighed in at 20 lbs, which is the size of an average 10 month old. Everything checked out well and he got up to date on his vaccines, so we are all set for another 3 months!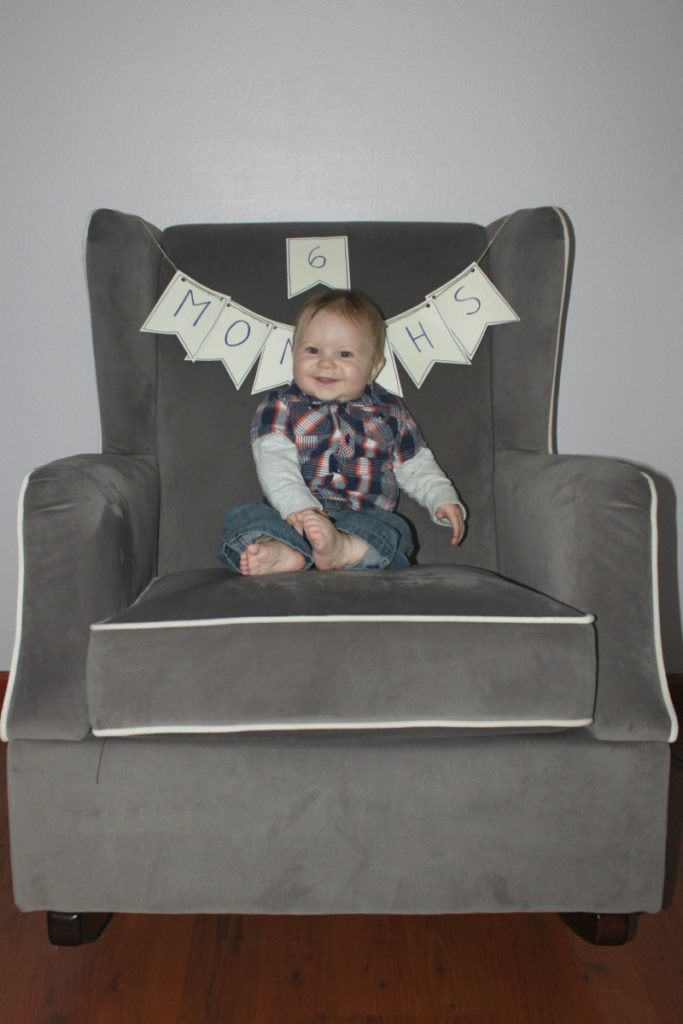 I took his pictures today and he covers most of his banner. He is 27.5″ long, which is near the 80th percentile. He has outgrown all of his 9 month clothes and I'm looking at unpacking some of the 18 month clothes soon. He probably won't fit in the holiday clothes Harrison wore his first year, but he might fit into the clothes Harrison wore the 2nd year!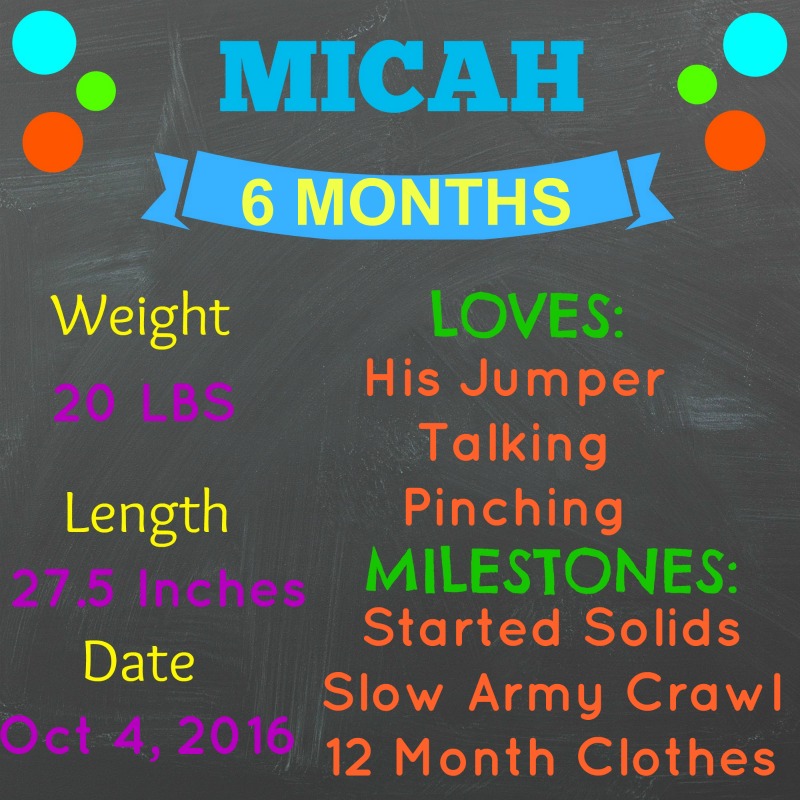 Micah has started using his hands for fine motor skills, but his favorite thing right now is pinching. Ouch! He especially likes grabbing our faces and cheeks. I don't think he understands quite how much it hurts when he pinches the back of our arms so he's lucky he's cute.
Micah has started eating solids and has tried about 10 foods so far. He loves sweet potato. He has also tried baby oatmeal, avocado, broccoli, zucchini, green beans, pumpkin, squash, and scrambled eggs. We are doing baby led weaning again and it has worked great for our family. Soon we will introduce some fruits and some meat.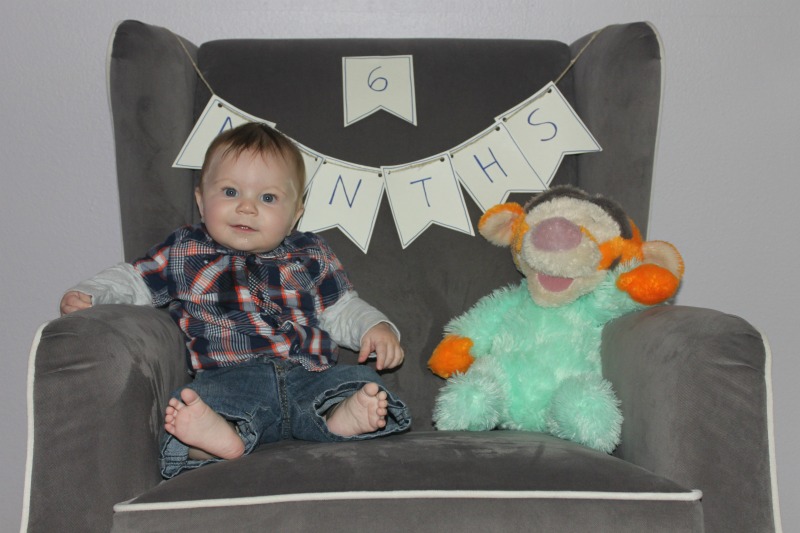 Micah is on the move! He has started to army crawl short distances and rolls if he wants to get somewhere fast. It's only a matter of time before his is crawling, because he has started to get on his hands and knees.
On another note, Micah spent his first night away from home when Ryan and I took a trip to San Francisco. Harrison and Micah did great while we were gone. In fact, if we could get them to sleep that well at home we would be all set. They adjusted to being back home pretty quick and things are back to normal around here. We appreciated the vacation, even though it was a work trip for Ryan.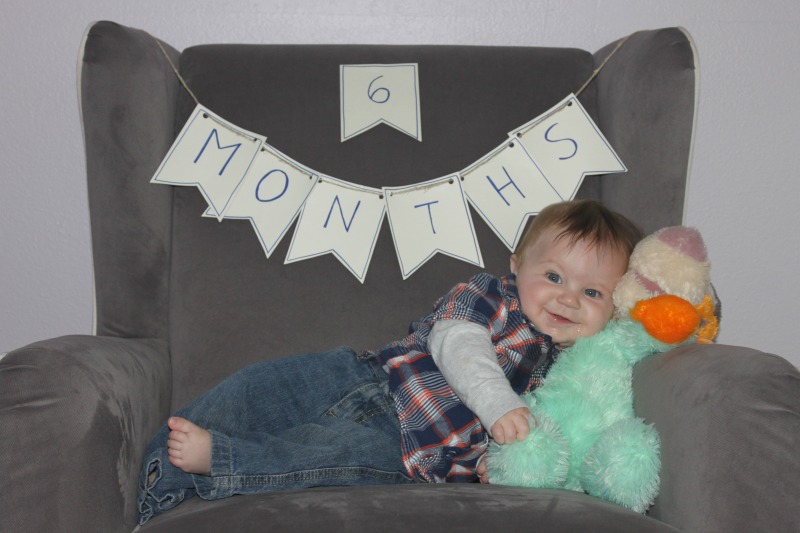 Celebrating the holidays with little ones is my favorite. With Halloween, Thanksgiving, and Christmas coming up I am looking forward to making new memories. This is my favorite time of the year! Make sure you check out our Fall Photo Shoot if you haven't already and check back soon for more updates!
Please follow and like us:
---
Ryan and I have been traveling and we almost missed getting pictures of the boys with the fall colors! I wanted to do a quick update about the kids. We had some free time this weekend and were able to get some good shots in. The colors peaked a few days ago but it is still very pretty. We really live in a beautiful place.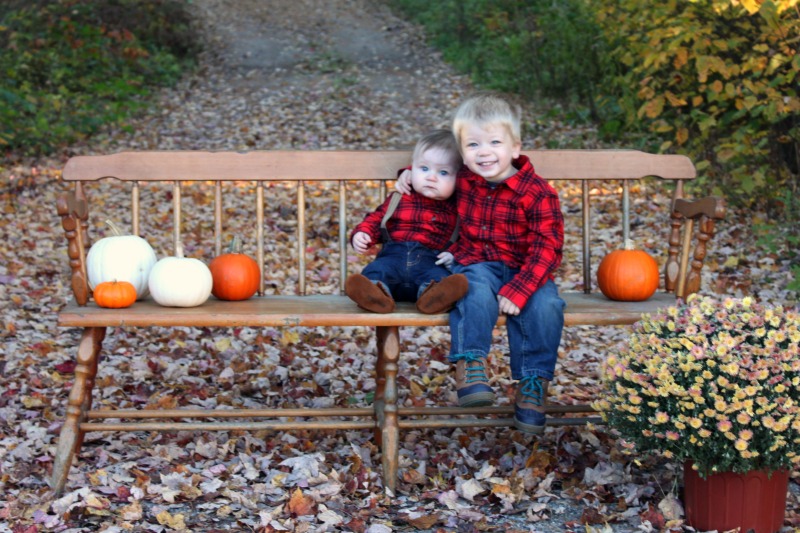 When I found out we were having another boy one of my first thoughts was about the matching outfits they were going to wear. It doesn't get much better than this.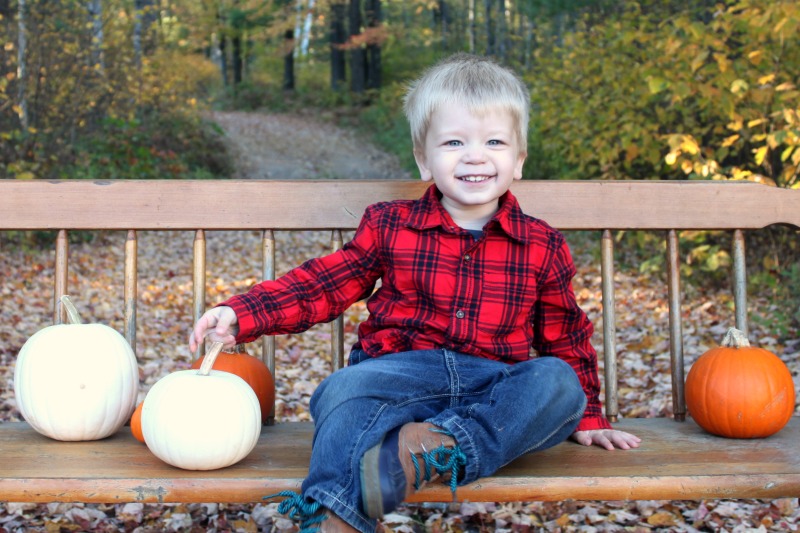 Harrison is almost 2 1/2. He is a talkative, funny kid who loves being outside. He loves the chicken, ducks, turkeys, and dogs. He is working on potty training and so far it is going great. I feel like he is still my little baby, but he likes to remind me that he is a big boy and "Harrison do it."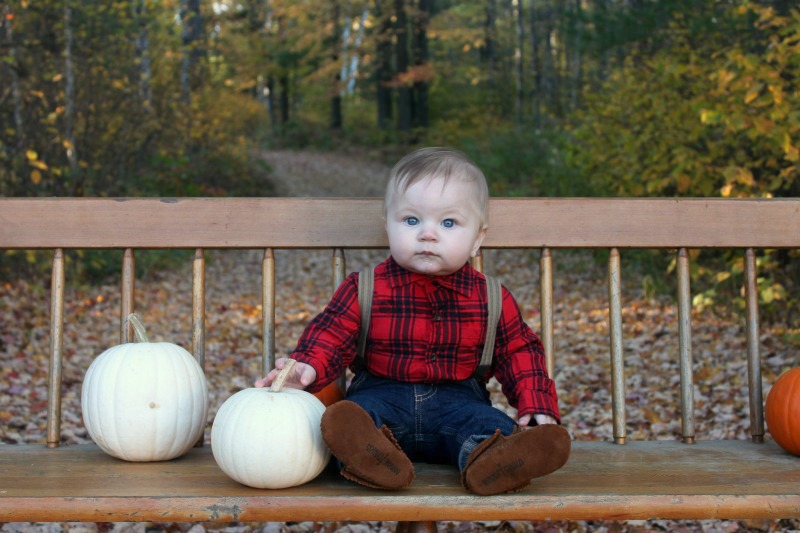 Micah has the most beautiful eyes I've ever seen. He is 6 months old now (monthly pictures coming soon). He is starting to move around much more and has started solid foods. He is a happy, smiley baby and he has the most kissable cheeks. Micah absolutely loves watching and playing with his big brother.
I'm so happy I got a chance to get some pictures and captured this perfect moment. These brothers really do love each other. I love watching them learn and grow together and couldn't be happier to have these 2 boys.
Tomorrow Micah has his 6 month appointment and I will get measurements and pictures of him to write a more detailed post. Check back soon!
Please follow and like us:
---
---
---