---
When I say "Starting the nursery" I actually mean "Starting to think panic about the nursery that may never get finished before the baby is here."  Right now we are using the nursery as our master bedroom.  It is tiny for a master, but has been working just fine for us.  Luckily, when we painted the room, we had a pretty good idea that it would be used as a gender neutral nursery.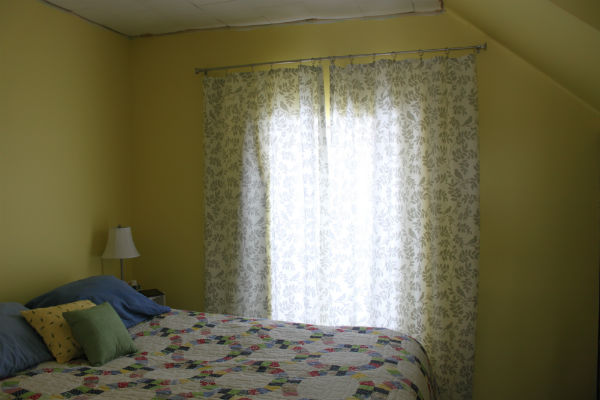 We will keep the yellow on the walls, but it will be toned down quite a bit once we get our trim installed.  The curtains will also stay.  I recently purchased a rug that matches the curtains pretty well and can't wait to get it set up in there.  (It is set up in the living room at the moment).
I originally wanted to do a Northwoods animal theme.  I was having a hard time finding neutral fabrics and bedding to match that though.  We finally decided on a yellow, gray, and teal theme.  I found this as my inspiration picture on Pinterest:
Shortly after choosing our theme, I actually found some great fabrics at Joann's Fabrics that fit both of my ideas.  I will be sewing a crib skirt and a pillow for the recliner out of these fabrics: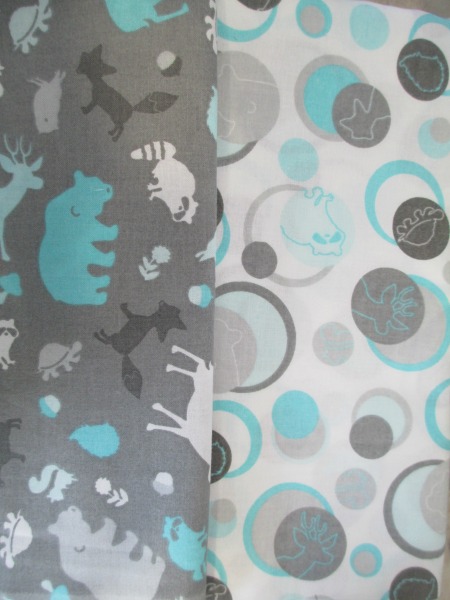 Speaking of recliners, I can not seem to find one that I like that won't cost me my first born child.  Since the whole point is to put my first born in this room, I will be making a slip cover for a recliner I received from my grandparent's old cottage.  It is in good shape, but is brown.  I plan on making a slipcover out of drop clothes similar to this tutorial:
As if that isn't enough work, we also need to trim in the nursery since we haven't gotten to that part yet.  Oh yea, and make a new master bedroom so we can try to get some sleep too!  I'll keep you updated.  Thanks for reading!
Please follow and like us:
---
---
---