---
While the dining room is nowhere near finished, we have been adding some decorative items to make if feel like home.  The dining room is "the room you need to walk through to get anywhere else" so it is nice to have it look more like home.  The last time I wrote about the dining room we had just finished putting in floors and were working on moving our furniture in: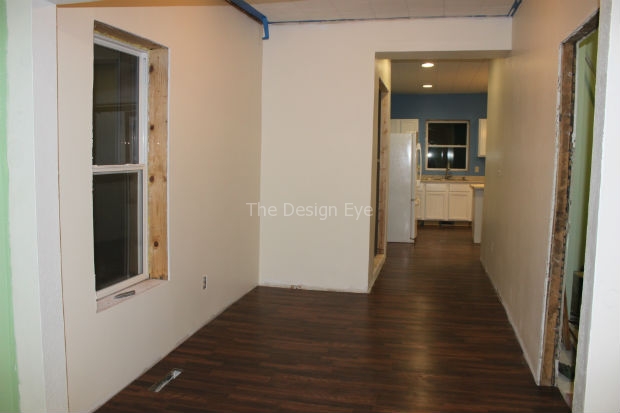 This weekend we finally got our curtains and painting hung up and they look great (but need to be steamed).  We are also loving that new light fixture.  Even though it seems so far away, we are thinking Spring here and started our tomato seeds.  This window gets so much light which is really nice with this winter weather hanging on.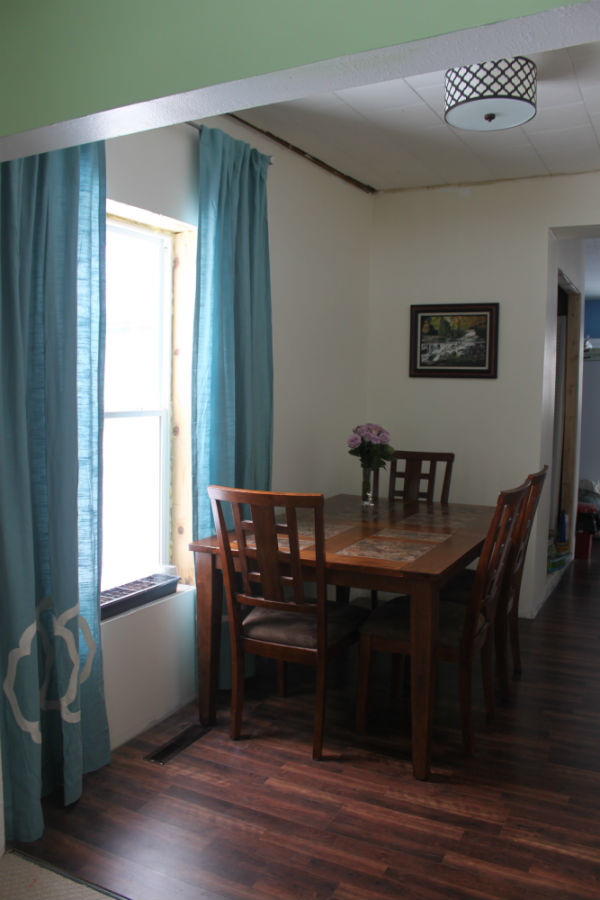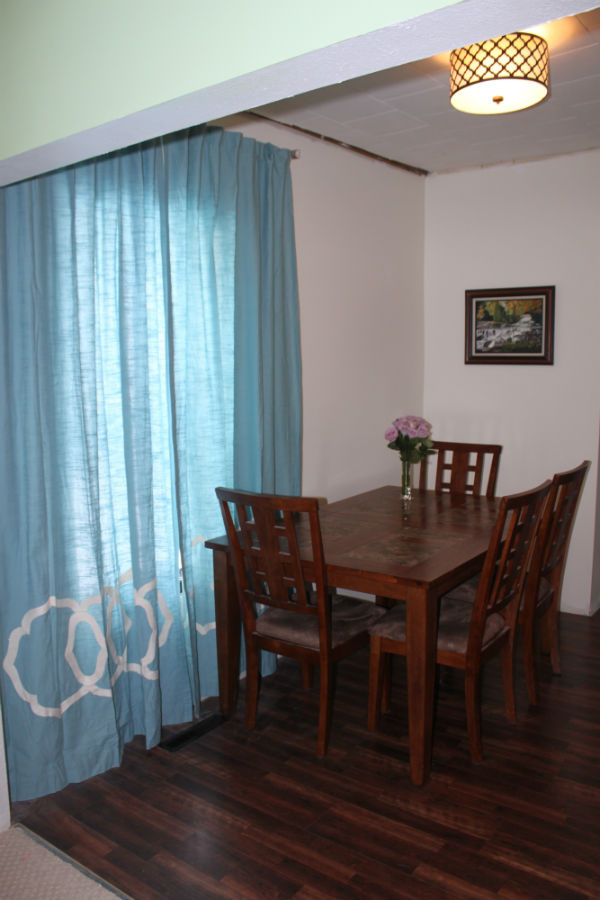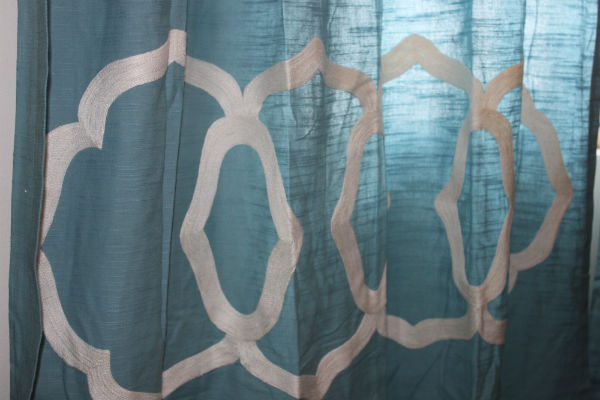 Curtains- Target
Curtain Rod- Walmart
Table and Chairs- Ashley Furniture
Painting- Hand painted by a family friend
Light Fixture- Home Depot
It looks like the snow is here to stay for at least a couple more weeks.  We are running out of room for snow, so I hope winter goes easy on us until then. I am dying to start ripping off the siding and get started on house wrap and new siding, but I will have to work on my patience.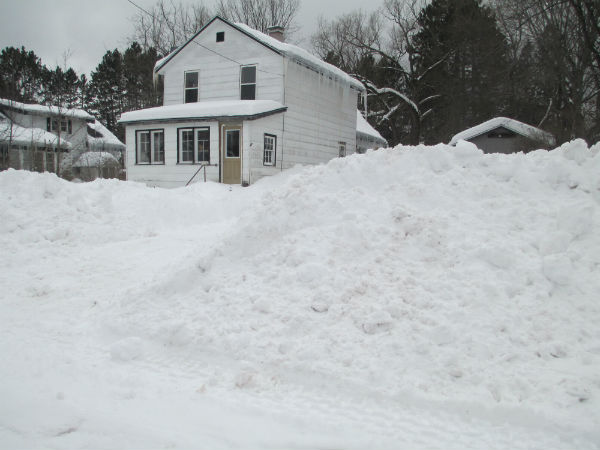 We have been keeping detailed photo albums on our Facebook page where you can see the progression of the rooms from the very beginning, so be sure to "Like" us on Facebook! Thanks for reading!
Please follow and like us:
---
I've been staying in the guest bedroom while living here until we get the master bedroom started.  Even though we don't live in a big town, we have street lights on our street that shine right into the guest bedroom window. I wanted to make curtains, but am only a beginner when it comes to sewing, so I cheated a little bit.
I wanted a curtain that would block out most of the light at night, but let in the sunshine in the morning.  I found this great fabric at Joann Fabrics and it is working great: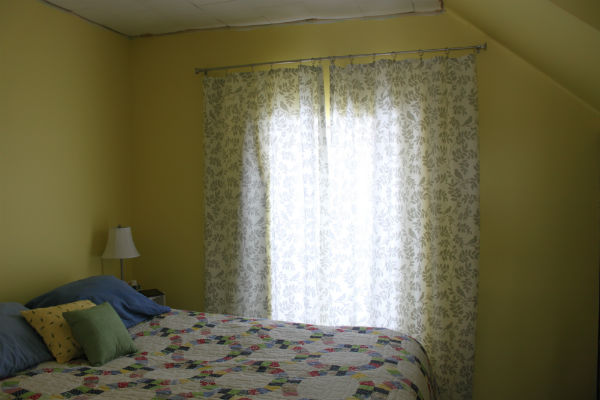 This project was so easy and anyone can do it.  All you have to do is make 2 rectangular curtain panels.  Mine are about 4 feet wide and 7 feet tall each.  Give yourself enough room so when you hang your curtains you can adjust the width and height to the place you would like. At 7 feet, we could have them touch the floor by hanging them lower or put them up high.  You don't have to decide until you are actually attaching the rod.  Once we have trim around the window, the curtains will still make the room look tall (don't mind my sagging ceiling tiles).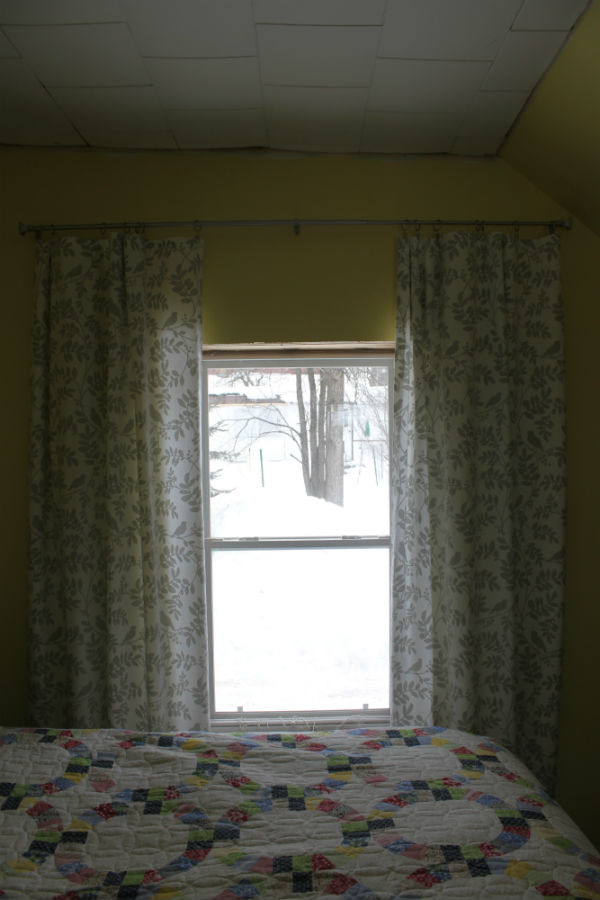 Once you have cut your fabric to the size you would like, fold over the edge of the fabric and iron a straight edge: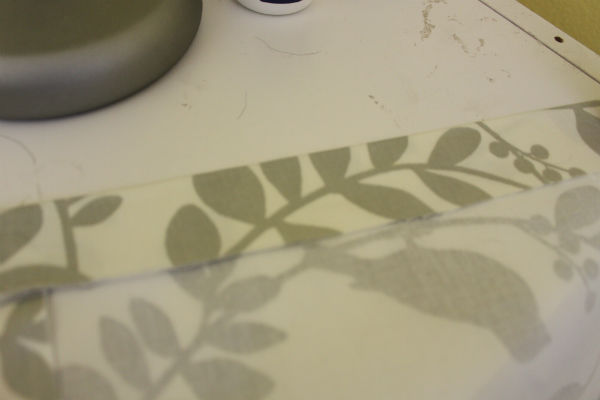 Once your edge is ironed, you can add hem tape (you can buy it in the sewing section).  The tape is not sticky until you iron it.  Put the tape between the 2 layers and iron the fold for about 3 seconds in each spot.  You just want to press the iron, do not move it around.  The tape will melt in between the layers and will keep a firm hold.  Just iron one side at a time and make sure both panels end up the same size.
Once you have your panels made, you can buy curtain clips to hang them.  You can find these clips just about anywhere (Walmart, Target, Joann Fabrics) and they come in different sizes and colors. I have 7 clips hanging up each panel: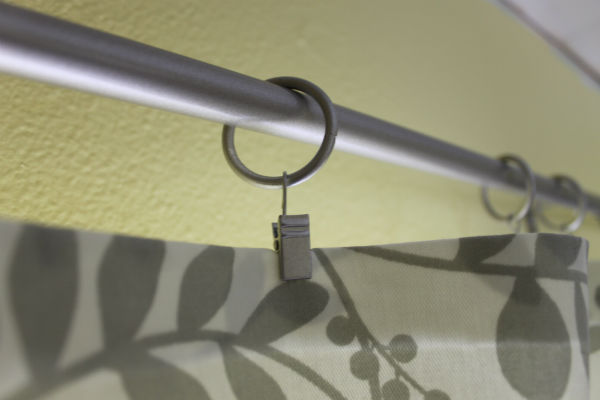 These are just about the easiest curtains you could possibly make.  It took me about 2 hours to do the entire project, and cutting the fabric to the right size was the longest part.  Now that we have a little bit of privacy, we only need a door!  I will be working on a headboard soon, I just haven't found the right fabric yet.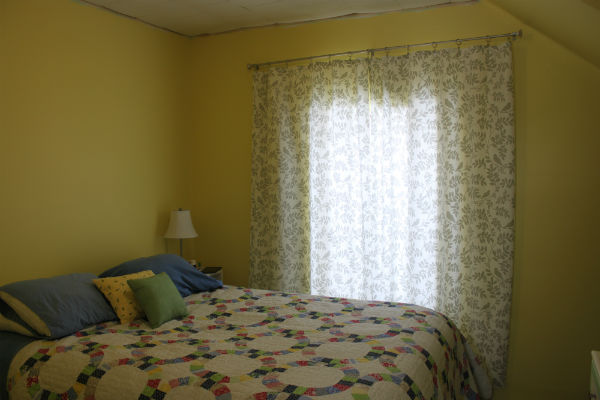 We also got a mirror hung up above our new dresser, so the room is really starting to feel like home: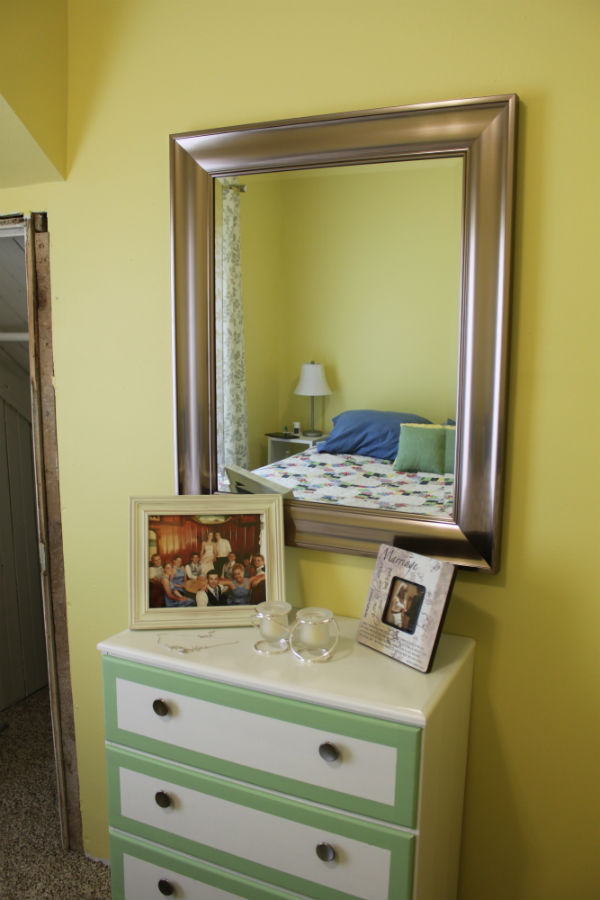 In the next couple of days I am hoping to post a dining room update and a bathroom update.  Things have been changing fast, so there is a lot to write about.  Thanks for reading!
Please follow and like us:
---
Life has been busy since moving into our new place! Since we have had a lot of big purchases lately (especially flooring) we have had to slow down a bit.  This gives us an opportunity to work on all of the little stuff that we've put off.  We have put in doors in the office and guest bedroom and put some more finishes in the guest room.
My favorite upgrade we have made lately involves our dining room lighting. Most of the lighting we had before was missing pieces or didn't exist.  This is what we started with (nice huh?):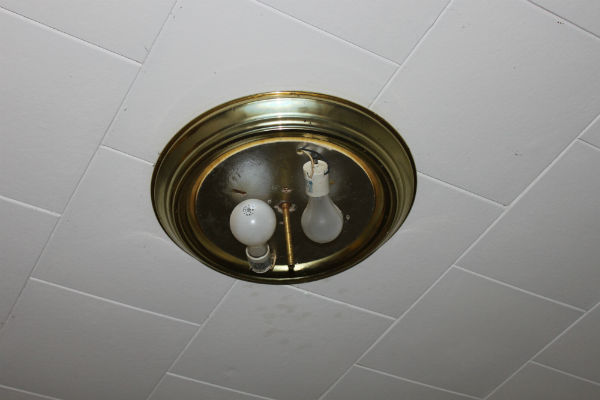 And this what we replaced it with: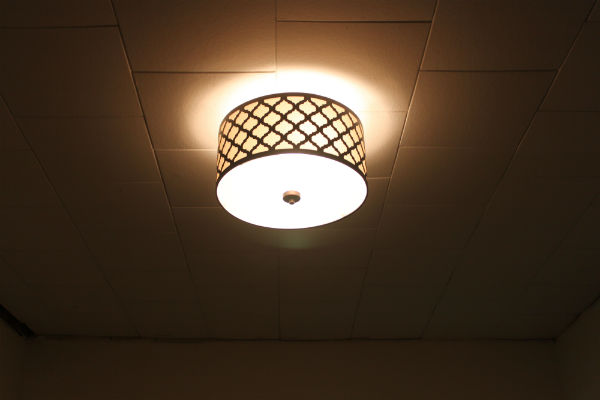 The new picture was taken at night so it's a little harder to see.  It's a brass fixture with a white shade inside and a glass base (Hampton Bay, Edgemoore).  Since this is in the dining room we wanted something a bit more formal, but a chandelier style wouldn't work with our layout.  This light was the perfect compromise.  We also have it set to a dimmer so we can adjust it however we like.  The best part…it was less than $90.  (Lighting is so expensive!)
I'll have a few more posts coming soon and hopefully the progress will just keep on going so posts will be more consistent.  Thanks for reading!
Please follow and like us:
---
---
---