---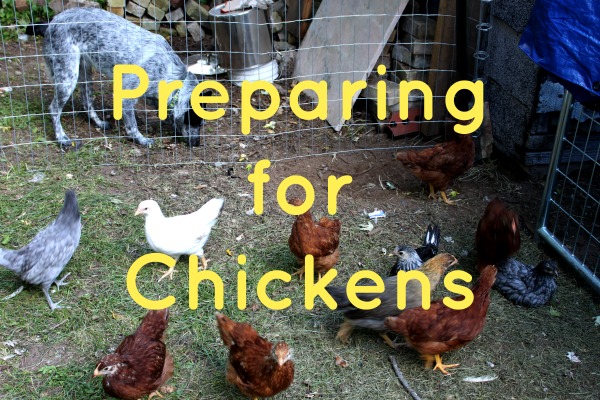 Today we are getting ready to build a coop for our chickens.  Although I recommend building a coop before your chickens arrive, we have done just fine until now by keeping them in a large outdoor dog kennel.  However, we live in town and do not have many chicken predators around.  Since we need a place for our chickens to nest and roost, the definitely need a coop soon (and hopefully we won't look like such rednecks anymore).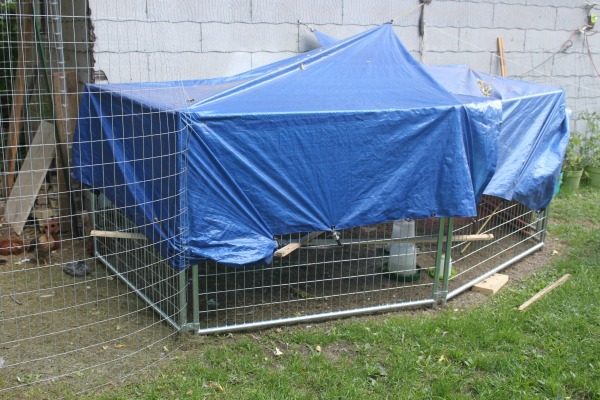 Our plan is to build a large garden shed that will be used as a coop.  When we sell our house, it can be used even if the next owners do not want chickens.  The shed will be 12'x8′ and will have a full sized entry door.  Here are some things we took into consideration:
1.  Chickens need about 4 square feet each inside the coop.  Since we have 16 chickens, that would mean making a 64 square foot shed.  Ours will be 96 square feet (just in case I want to add a few to my bunch).
2.  Linoleum flooring (which will be installed before the walls are put up) is easy to clean and should cover most surfaces.
3. Ventilation is extremely important and helps keep your chickens safe in the cold winters as well.  We will have vents and windows installed for this purpose.
4. We want a fixed foundation, but do not want it raised so that predators/nuisance animals can get under it.  For this purpose, we are putting down a gravel pad for our foundation to rest on.  This will also help with drainage.
5. I designed the interior of the coop around the nest boxes and roosting sites.  We will have one nest box for every 4 chickens and plenty of room for roosting (they require 8-10″ each).
6. We really want the coop to look nice without costing a lot of money.  I will go into details of our supplies in another post, but the coop will have the same siding as the house and will match the garage.
We are going to put the coop back behind the garage.  You won't be able to see it from the road and it is in the back corner of the property (away from any neighbor's homes).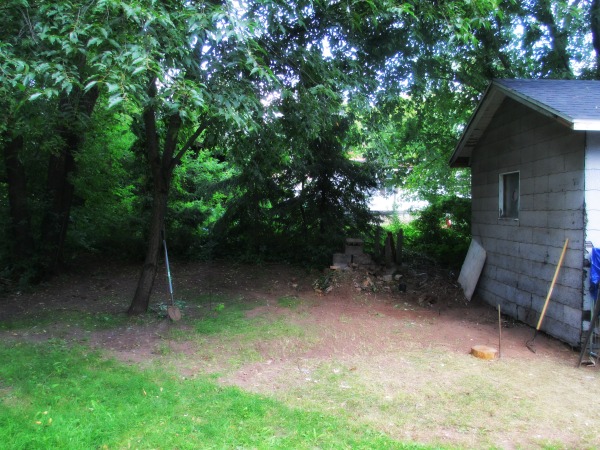 We will have to remove one tree before we begin, so that we can have a run come out the west side of the coop.  Other than that, we were able to dump some gravel into our 12'x8′ area.
We have just as much gravel left, and we will work on creating a level area when we start building our treated foundation.  Tomorrow we will start the building process, so check back for an update soon!
Please follow and like us:
---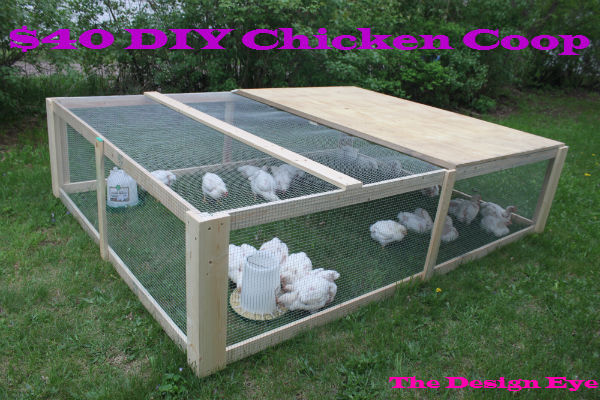 We are having quite an adventure with our meat chickens.  They are already 4 weeks old and only have a couple weeks to go.  They are growing fast and running out of room in their brooder.  Thankfully, it has been beautiful out and they can start living outside. I drew up some plans for a coop that is quite simple.  It consists of 4 corners, 4 panels, and a top made of hardware cloth and plywood.  The coop is 2'x6'x8′ and fits 25 chickens.
Materials:
40′ of 1/2″ Hardware Cloth
Staples
Screws
3 – 1×4
1 – 2×2
8 – 1×3
Plywood – 4′ x 6′
The corners are 24 inches high and made of 1x4s and 2x2s.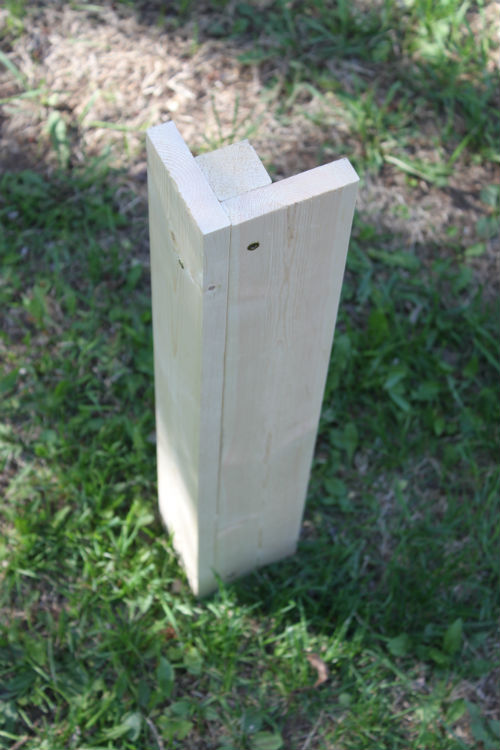 Next, we made the sides panels out of 1x3s and hardware cloth.  The long side is 8′ and the short side is 6′.  We spaced out the 1x3s 24 inches apart and stapled on the hardware cloth. The hardware cloth is stapled on the outside.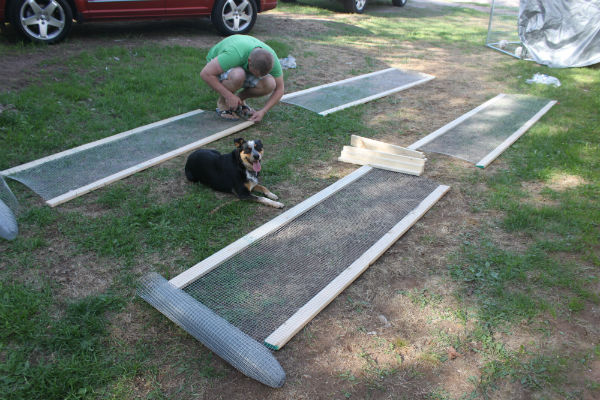 With the scraps cut off from the 1x3s on the 6′ side we added support on each panel.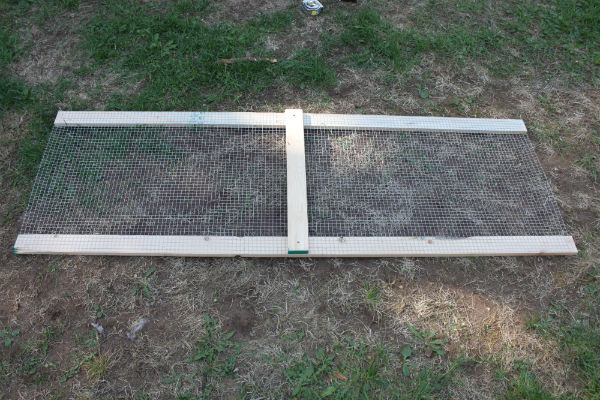 The panels tuck inside the corner pieces to help secure the hardware cloth.  We don't want our chicks getting eaten by anything but us!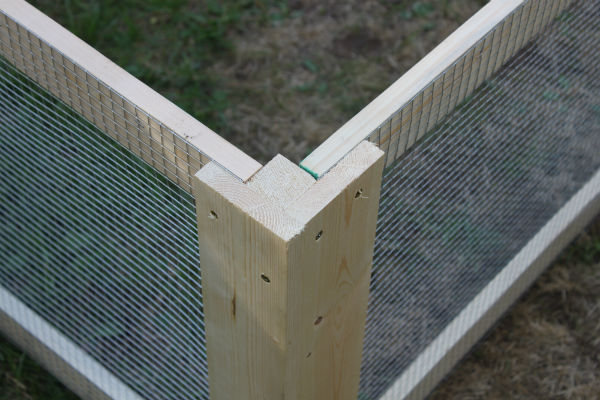 We put in a lot of staples to secure everything in place and ended up with our base.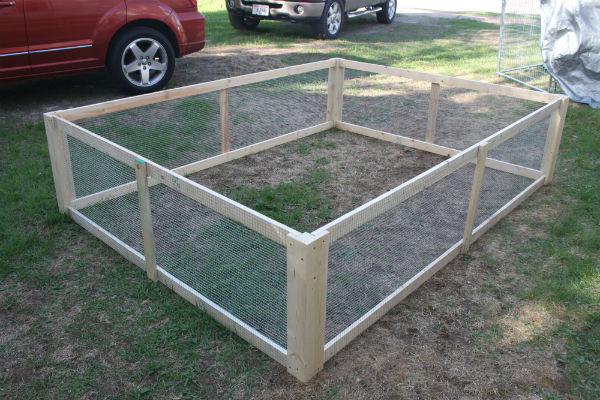 We used a 1×4 to secure 2 6′ sections of hardware cloth to cover 1/2 of the top.  The other 1/2 is covered by a 4'x6′ piece of plywood.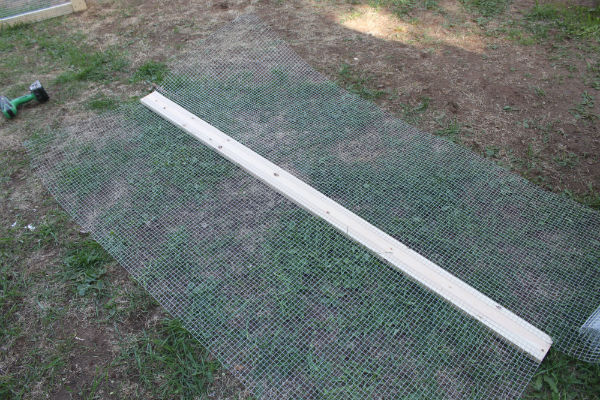 Ryan climbed in a secured the last bit of hardware cloth.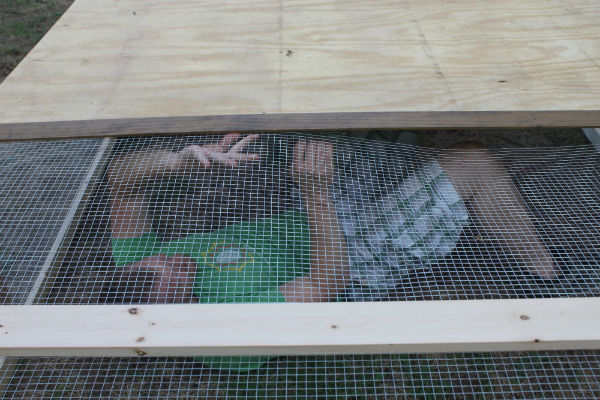 After just a couple of hours we have a great looking coop.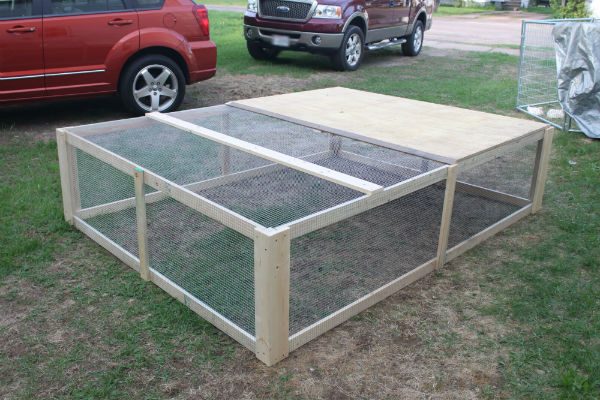 The best part of the coop is that we can move it around the yard so that the chickens don't get too stinky and our new neighbors won't hate us.  For now, the coop is fully stocked and the chickens seem happier than ever.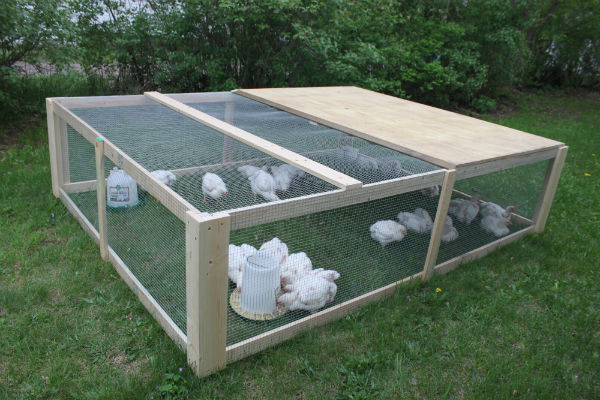 Please follow and like us:
---
We ordered 25 cornish cross chickens to raise for meat.  Since we haven't done much work on the upstairs yet, we built a brooder we could use in the house and then move outdoors later.  We made the brooder almost completely from scraps, but it would be cheap and easy to buy the supplies.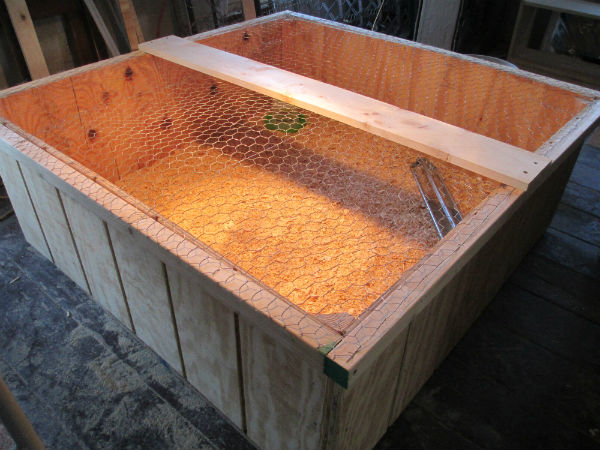 My parents had some scraps of T11 siding that measured 48″ x 18″ which worked perfect for the sides.  We had some triangular scraps that we cut to 18″ for braces (but you could use 2x2s).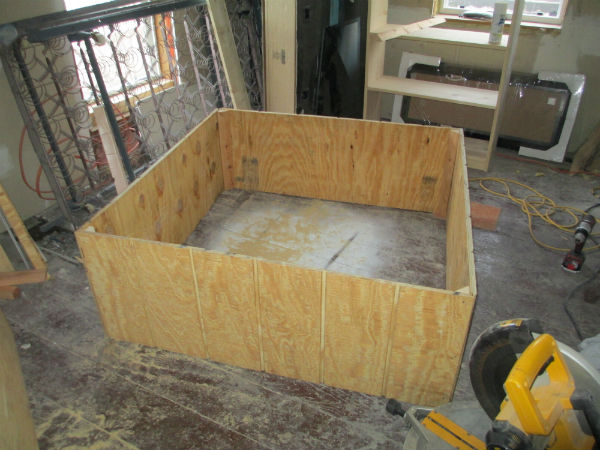 Next, we cut the base (48″ x 49.5″) and secured it on the corners.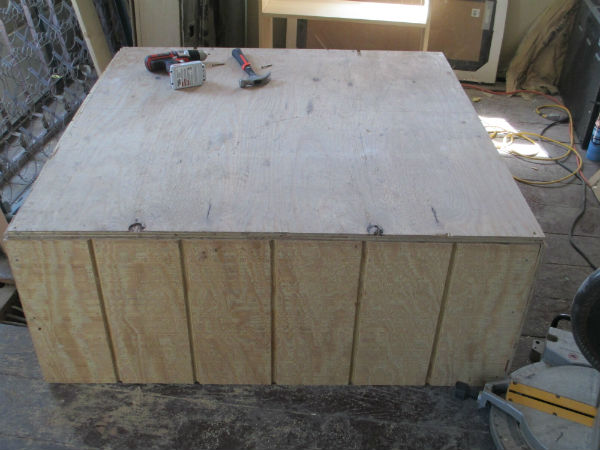 You can add support on the inside of the box to secure the base if needed.  (We added some 2×2 braces just in case).  To finish off the brooder we built a cover out of 2x2s and chicken wire.  We also put a 1×6 support down the center to staple the wire where we had a seam.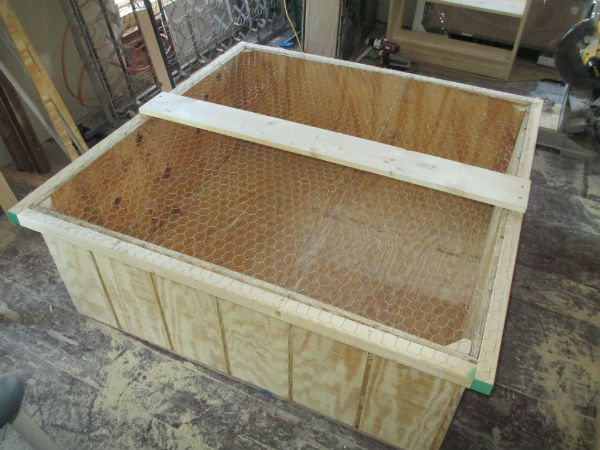 We hung a heat lamp from the ceiling with an adjustable cord so we can manipulate the temperature.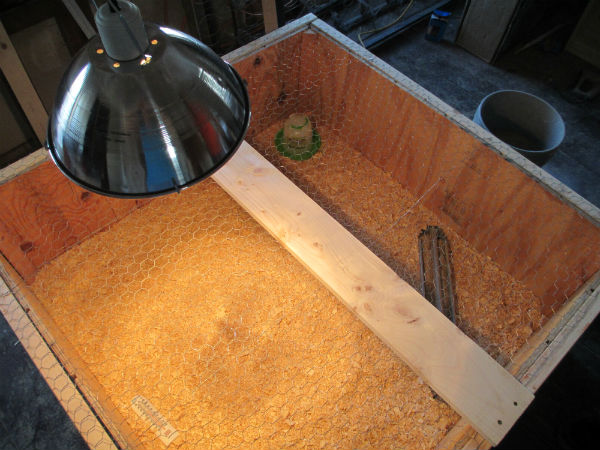 We put in the food, water, and thermometer to get everything warmed up for the new chicks, which arrived the next day. (Yes, there are 25 chicks in there!)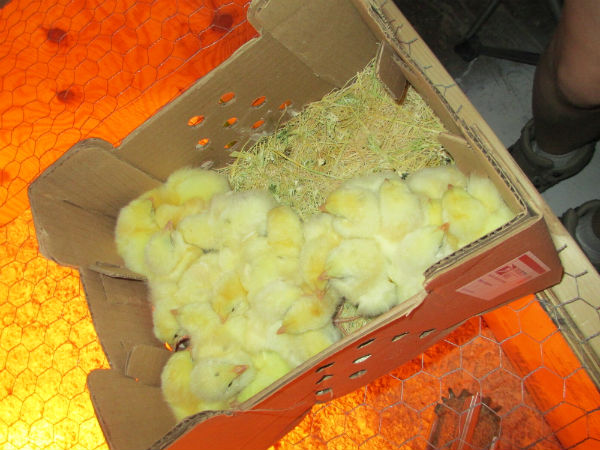 We put them into their new, cozy brooder and dipped their beaks into the water to get them started.
The dogs were very intrigued.  Every so often they go upstairs to check on them and they have been very gentle.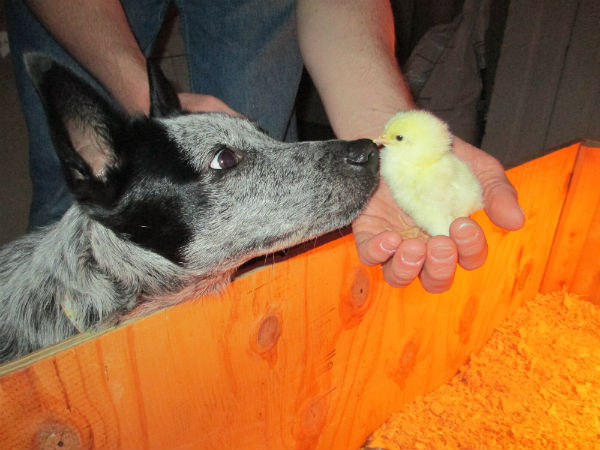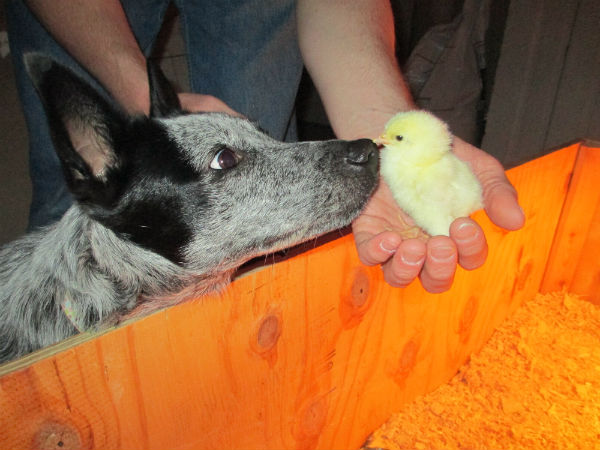 We are learning as we go, but everything has gone well so far.  The chicks are darting around and chowing down food.  We will definitely keep you updated on our new adventure! Thanks for reading!
Please follow and like us:
---
---
---