---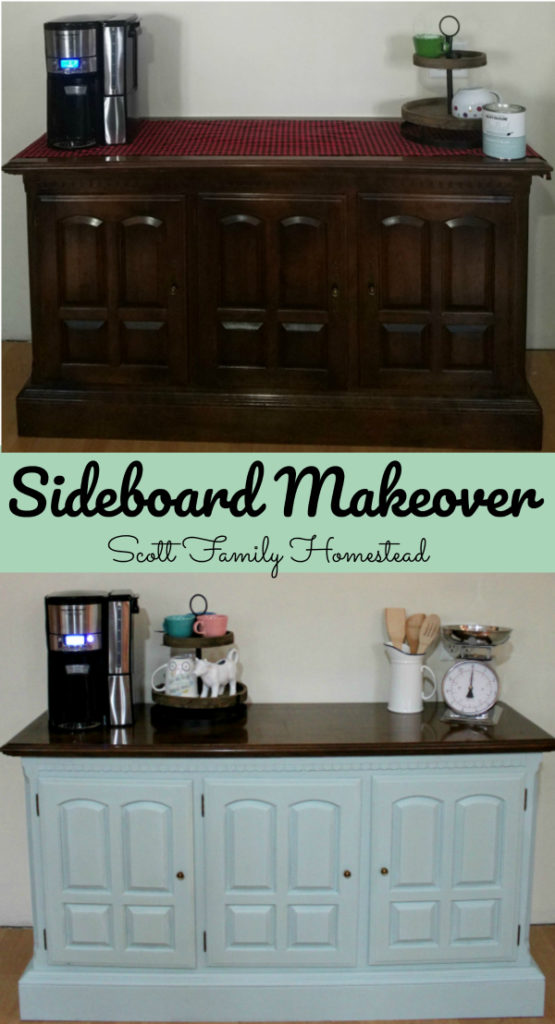 Last year I picked up a sideboard/buffet at an estate sale. It has beautiful details and is in great shape. It was made by Ethan Allen and I don't know what the original cost was, but I think the $50 I paid was a pretty great deal.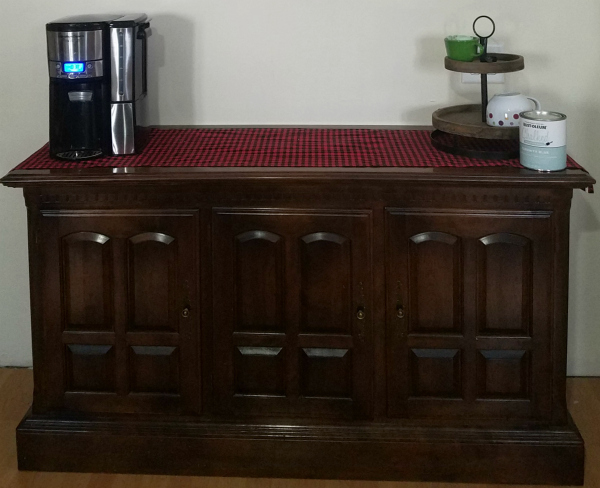 Who doesn't need extra storage in their kitchen? This sideboard has 2 cabinets with shelves and 1 cabinet of drawers. Our crockpots, dutch oven, food saver, waffle maker, etc all have a home now.  Besides, for this house, coffee = life, so we needed a place to keep our coffee supplies and this is right outside our bedroom door. Perfection.
Our kitchen has dark cabinets and an issue with lighting at the moment. Putting in light countertops has helped, but we needed to lighten and brighten the room, especially in the dark corner the sideboard is in. We started this project by putting in 2 barn lights (from Home Depot) and painting the kitchen antique white, a couple of shades lighter than the original wall color. Would you believe those lights were less than $23 each?! They are currently $32, which I still think is a deal.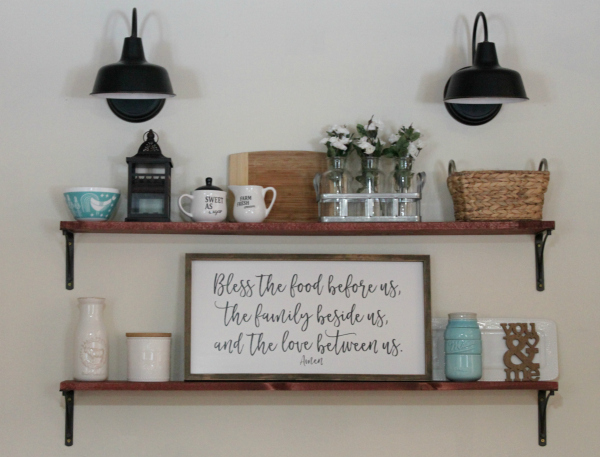 While I'm not a fan of open shelving as a main storage space, but if it serves as a functional and decorative accent, I am a huge fan. We decided to add some shelves above the sideboard for a place to store our coffee and supplies as  well as some kitchen accents. I used a custom mix of stains to match the other trim and cabinets in the house. The brackets are also from Home Depot and are set right at the edge of the shelves to show off the details (and hit studs for support).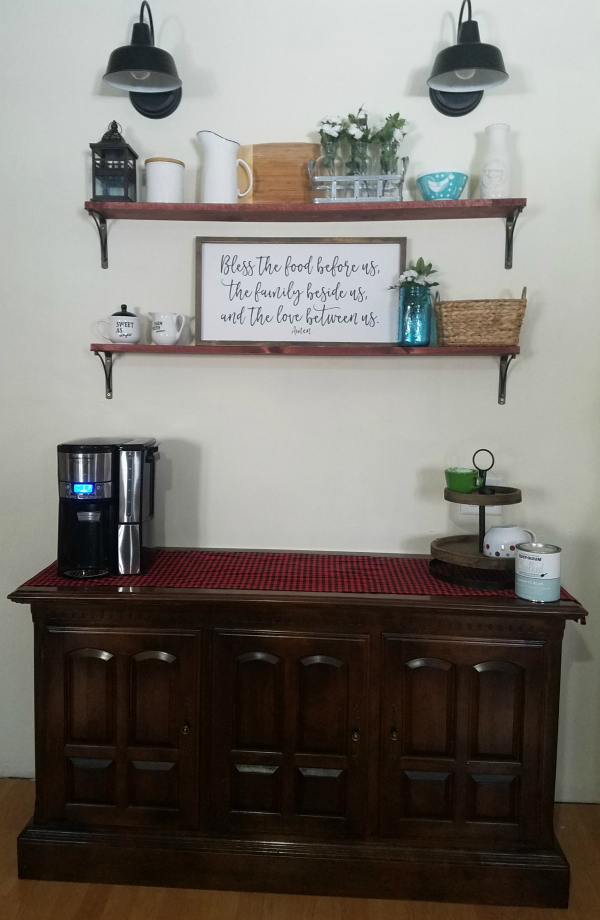 The sideboard itself was so dark that it didn't show off the pretty details in the woodwork. The top has a beautiful glossy finish though and I wanted to keep that for the surface. I painted the rest of the sideboard with Rust-oleum Chalked matte paint in serenity blue. I used the Rust-oleum matte clear topcoat after several coats of the chalk paint. I am happy with the finish, but probably wouldn't use chalk paint again on a project like this. I will detail more about that in it's own post another day.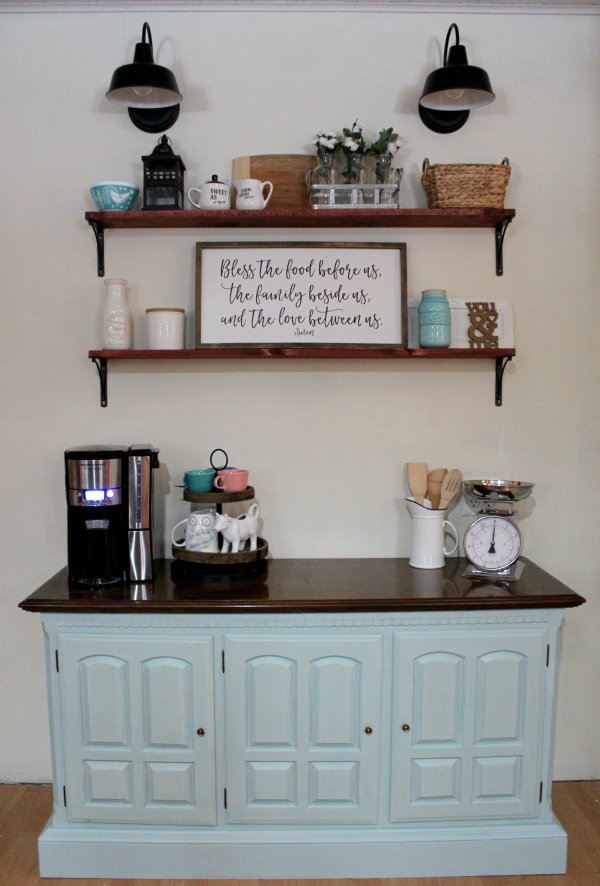 The matte finish is beautiful and the details really show through now. I am in love with the dark on light look. Now that everything is all tied together and has a little bit of a farmhouse feel, I'm ready to DIY the rest of the house to match.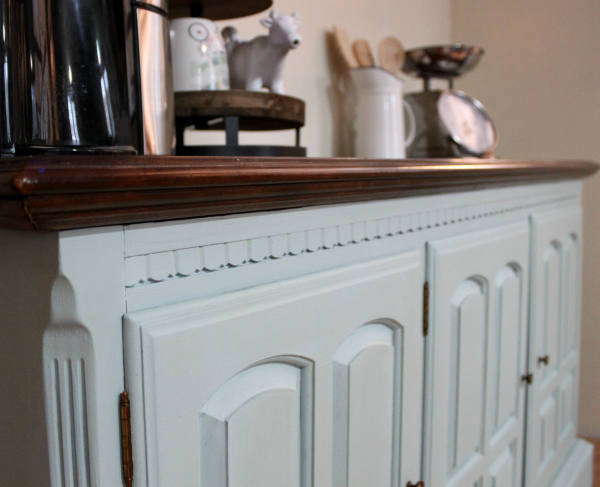 The best part is definitely a new beautiful home for our coffee station. (Our coffee maker is a Hamilton Beach Brew Station and I highly recommend it!)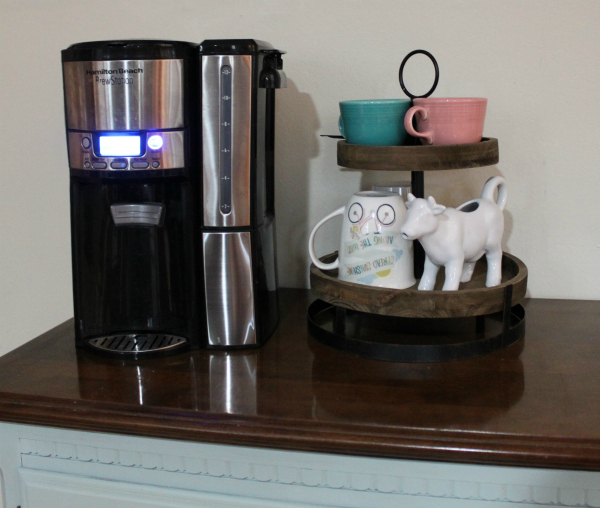 The whole kitchen is really coming together now. We have put in new quartz counters and decorated with blue and cream. It feels more like home every day. This week marks 3 years in our house. It has taken quite a bit to make it our own (and we aren't done) but the work is all worth it.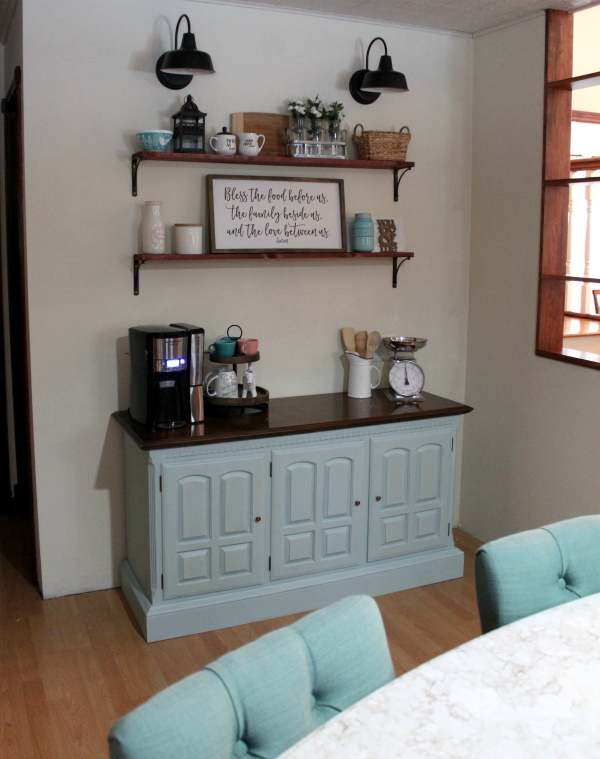 Stay tuned for more DIY projects and our homesteading journey. Don't forget to follow along on Facebook and Instagram for more!
Please follow and like us:
---
---
---