---
Harrison's room is finally done! If you remember, he decided he would sleep better in his room if it was green and had trains. While I realize he really just loves to snuggle in our bed and was avoiding going to his own room, I thought it was probably time for a big kid room anyways. If you haven't already seen it, check out the before pictures here.  Now for the big reveal!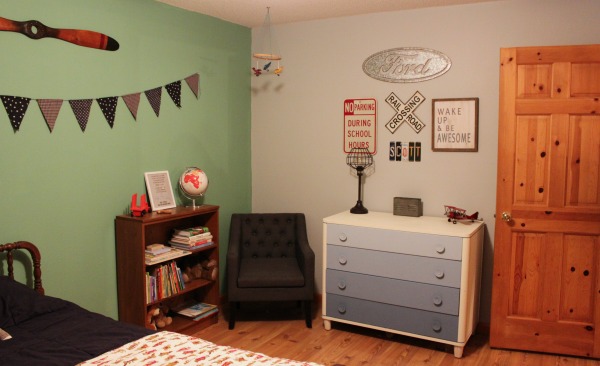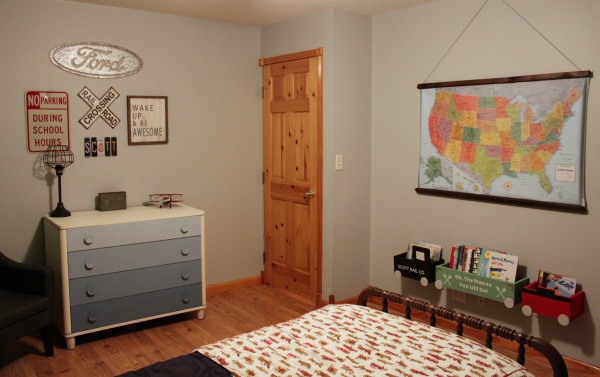 We already had many of the aspects of this room, including the Jenny Lind bed, ombre dresser, bookshelf, and desk. I added in many of the travel themed accessories though. I had so much fun making this "Planes, Trains, and Automobiles" meets "Oh, The Places You'll Go" bedroom. It would really make a fun nursery too, but I really see this as the room that will grow with Harrison. Before I get into the little details, check out some of these fun products for yourself (not sponsored).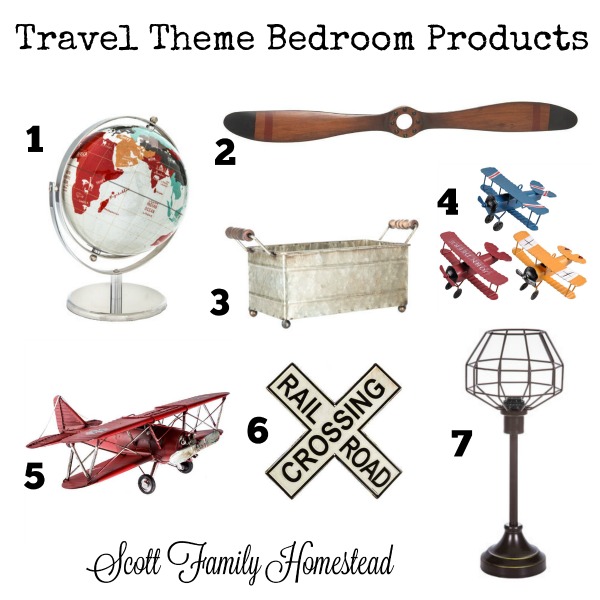 The train book shelf is definitely Harrison's favorite part. I will go into further details on it's own post. It was really easy to build and a couple of stencils from the Cricut made it special for him. My favorite part is the large map (that I found on sale at our local book sale). I added a couple of 1x2s with a dark stain, which saves so much in comparison to having it framed.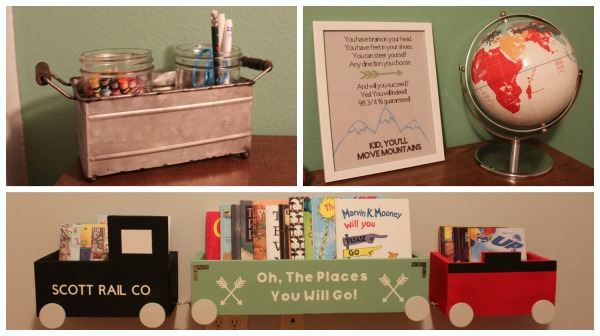 I added a few quotes from "Oh, the Places You'll Go" throughout the room. Sappy Mom moment: I really think Harrison has big things in store for him and I think these quotes suit him. He's a creative kid and I hope this room inspires him.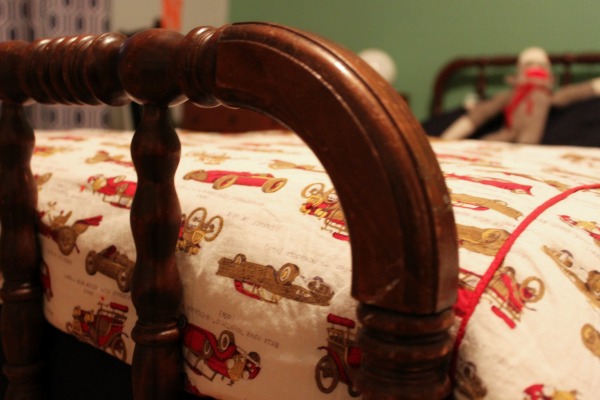 This room has some really special, vintage aspects too. My Dad gave Harrison this blanket with vintage cars on it. It was his as a kid and Harrison loves it. Laid on this Jenny Lind bed and with a homemade sock monkey from my Grandma and it fits in just right.  The desk in the corner was my Dad's too. I love sentimental things. I also love homemade things, like the train and this flag banner made from some fabric scraps.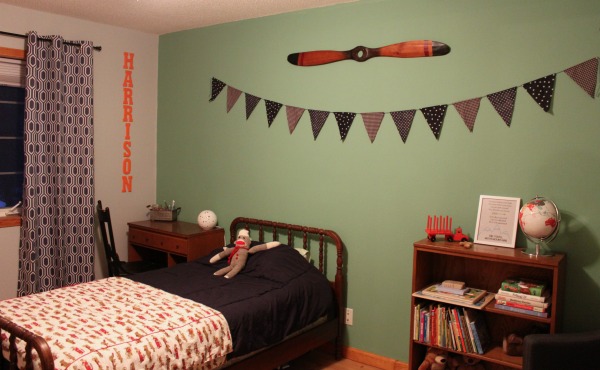 Harrison loves his new room, and will hopefully sleep in it! He has been doing really well lately and only comes down early morning to snuggle. Harrison is a real sweet heart and I won't turn down the snuggles anytime soon. It's true, the days are long but the years are short.
Please follow and like us:
---
---
---