---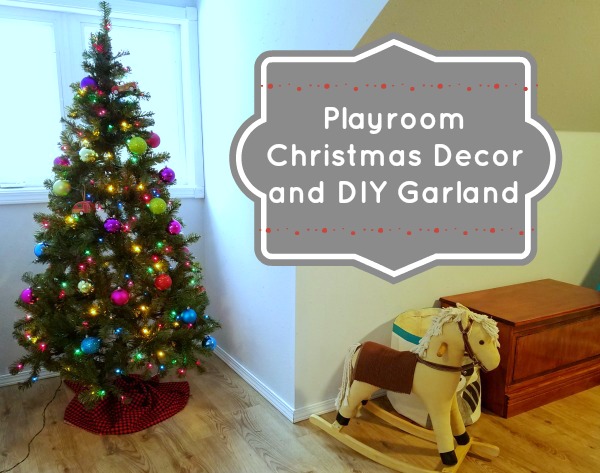 Last week, Ryan was traveling for work. I quickly ran out of entertaining things for the kids to do, so we ended up pulling out some Christmas decorations, including a cute little tree from Target and some shatterproof ornaments. I recently saw an idea on Pinterest that involved gluing little pom poms to pine cones. A project that will entertain both kids and will keep the little in his highchair? Yes PLEASE!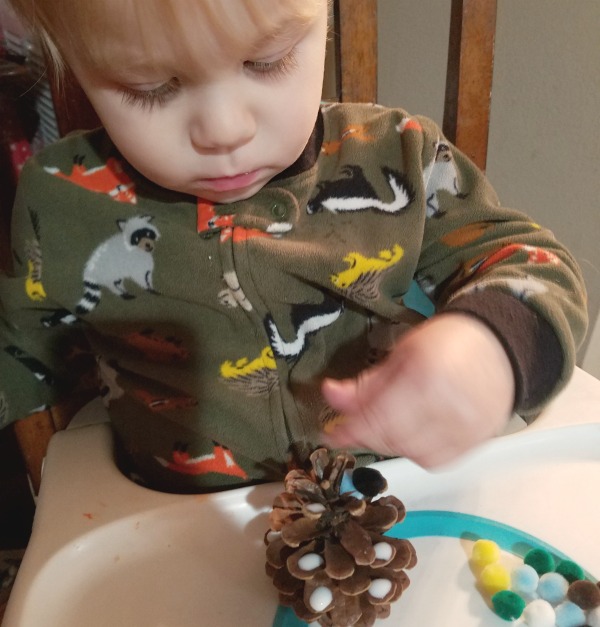 I put the glue on Micah's pine cone (leftover fall decorations from Hobby Lobby) and Harrison did his own. Each kid got a handful of mini pom poms. It was a very entertaining project and each of the boys made a few of them.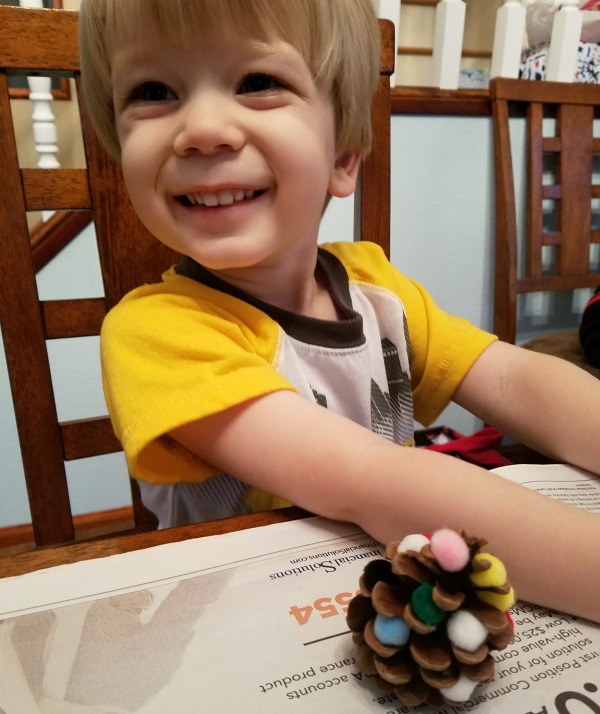 Now, what to do with these cute little pine cones? I love to stock up on clearance decor at the end of the season and last year I got some red bead garland from Hobby Lobby. With a little hot glue, we have a cute little garland perfect for the kid's playroom!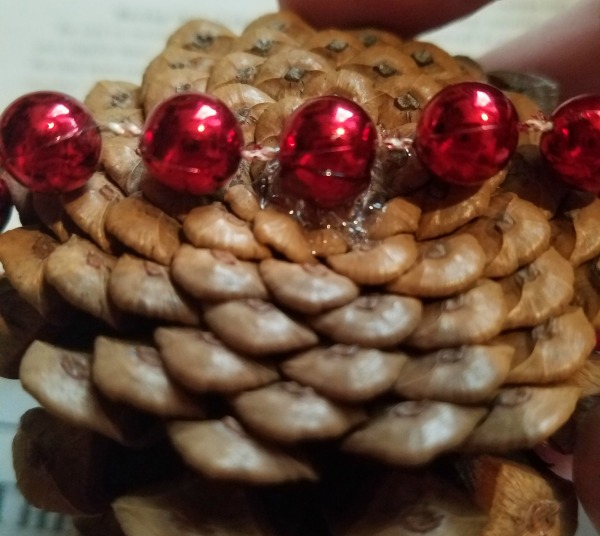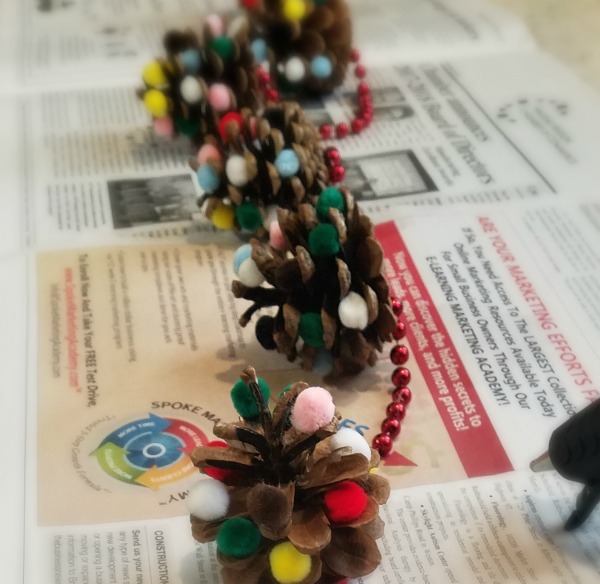 The garland costs $2.99, but I was able to get it 75% off last year. I also had enough to make a cute garland for our fireplace, but I will share that another time. With just a tiny budget and a little bit of time (and help from the kids) you can make this garland too!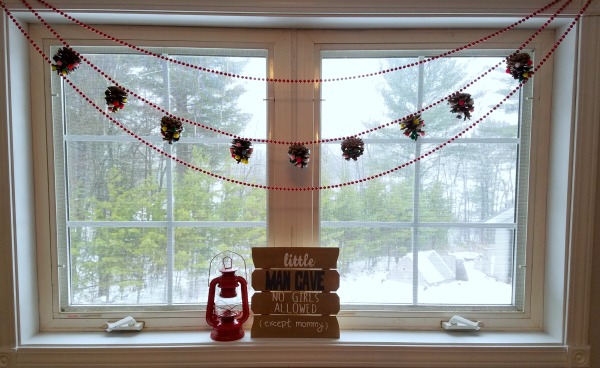 We recently finished the playroom in an extra room above our garage. This garland fits in with the woodland theme perfectly. It also adds a little bit of color and fun.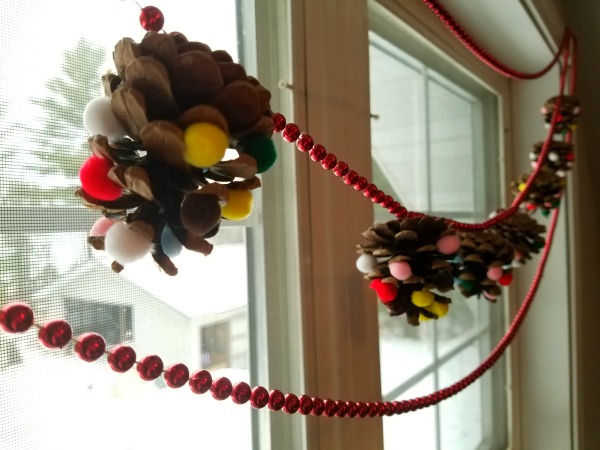 The kids also fell in love with a singing reindeer at Target, so he is hung up on the wall (where they can't push the button every 20 seconds). He is another great addition to the playroom and the kids think he is so fun.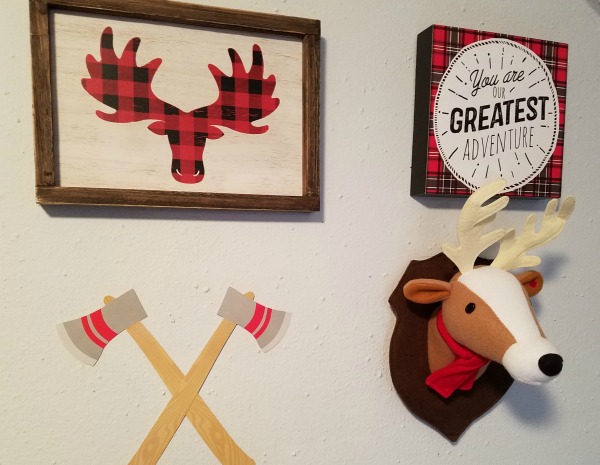 With that, I think the playroom Christmas decorating is complete for this year. We will have another fake tree (all white) in the loft and we will get a real tree for the living room after Thanksgiving. I typically try to wait until after Thanksgiving for Christmas decorations, but it has been so snowy and cold here that the winter decor just fits much better than fall decor right now. As a bonus, we've been able to keep the kids busy and helpful with all of these little projects.
COMING UP: Have you seen the new Hearth and Hand line at Target? They have a wreath that I just love. As it turns out, I had everything I needed to make my own without spending a penny! Later this week I will post a tutorial so you can make one too! Stay tuned.
Please follow and like us:
---
---
---