---
This weekend we celebrated my brother's beautiful wife-to-be at her bridal shower. The couple had registered online for a set of end tables similar to a coffee table I built a couple of weeks ago. I knew there was a matching end table plan and decided it would be extra special to have solid wood tables built by hand. The plan came from Ana White and is called Rustic X End Table.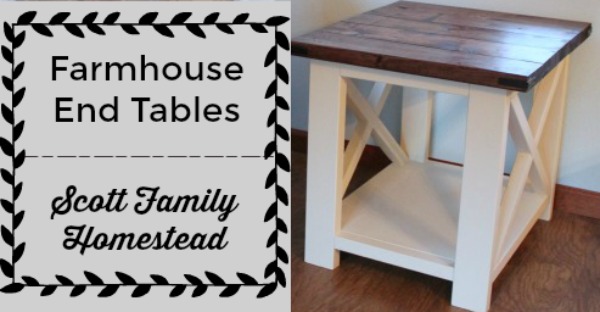 After looking over the plans, I decided to make the table just a tad smaller. By making the tables 27″x24″ the materials can be cut with less scraps. I recommend checking out the plan on Ana-White.com, but for reference the plan requires the following lumber for 2 tables at the smaller dimensions:
4 – 2×4 @ 8 feet long
1 – 1×12 @ 3 feet long
4 – 2×2 @ 8 feet long
3 – 2×6 @ 8 feet long
You will also need 2 1/2″ and 1 1/4″ pocket hole screws, wood glue, and corner bracket hardware if desired. In our area the lumber cost $60.
The cut list for each table:
8 – 2X4 @ 22 1/2″
4 – 2X2 @ 13″
2 – 1X12 @ 13″
2 – 2X2 @ 26 1/2″ at 50 degrees, Long point to short point
4 – 2×2 @ 13 1/4″ Long point to short point with 50 degree and 10 degree angles
5 – 2×6 @ 24″
In order to keep the X feature without changing the angles and measurements, I only changed the width of the table. The overall result is a rectangular table, rather than a square. The X is the hardest part, but I found it easier to hold the 2×2 up to the table and mark the measurements instead of measuring point to point. They all fit perfectly that way. All of the directions and diagrams can be found at www.ana-white.com/2012/08/plans/rustic-x-end-table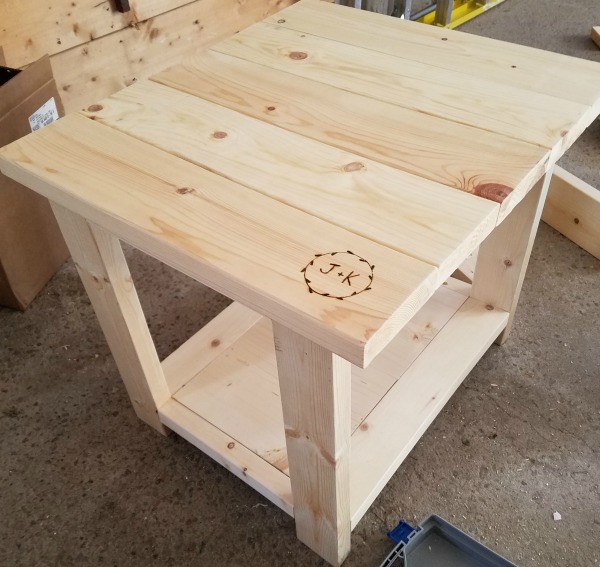 After purchasing the lumber, I wondered if there was a way I could monogram the tables for the couple to make it more personalized. I have a wood burner from when I was younger and decided to give it a try (on a spare piece of wood of course). It has been a while, but it was easier than I remember. Both tables have the monogram on the front corner, on opposite sides.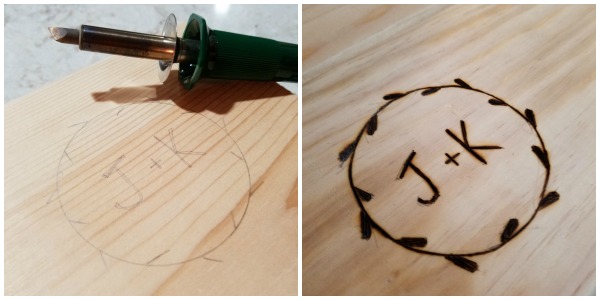 I am so happy that the engraving turned out well! With the stain I put on the top (Minwax Red Mahogany 225) it turns out to be subtle, but the subtle details are what makes these tables so beautiful.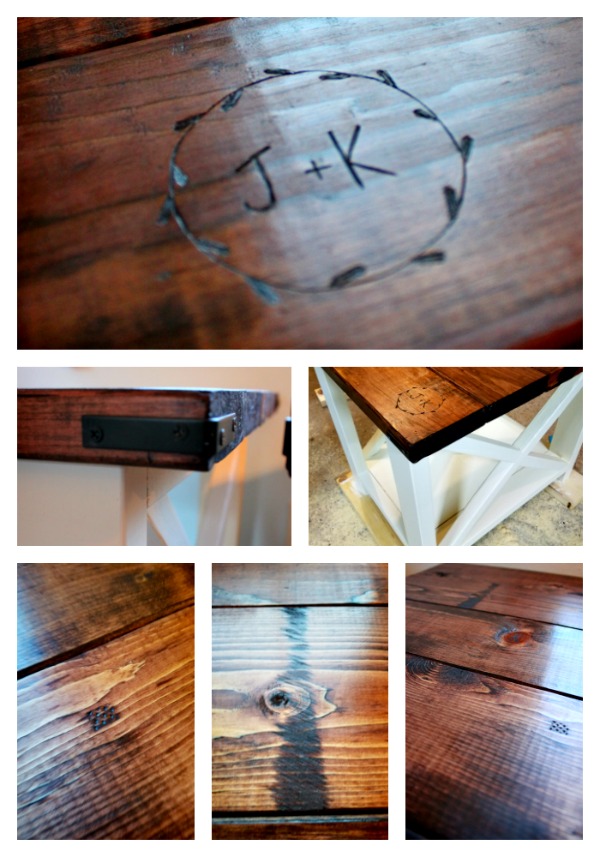 The corner bracket hardware were a last minute addition. I purchased some 4 packs of L brackets and some spray paint. Totaling less than $15, it was worth every penny.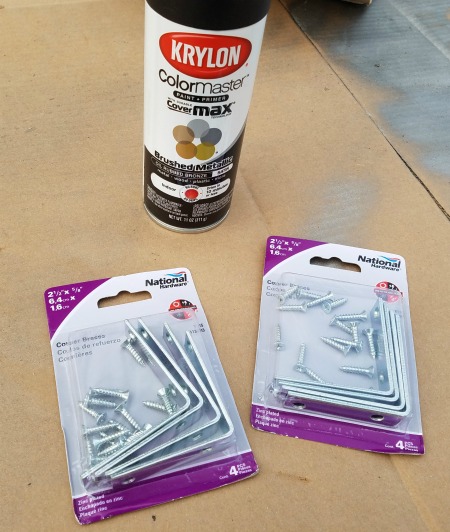 If you poke the screws into a piece of cardboard, you can paint everything all at once. Then the screw heads will match the brackets perfectly.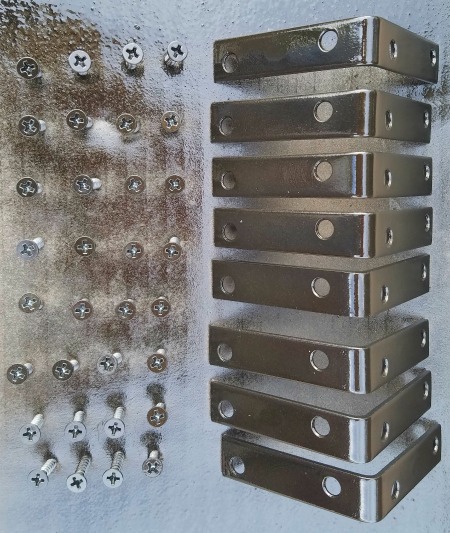 Of course, I had a helper for priming and painting. I used a fast dry primer and Dutch Boy paint in Antique White. It is the same color of the dresser I just refinished and our farmhouse bed.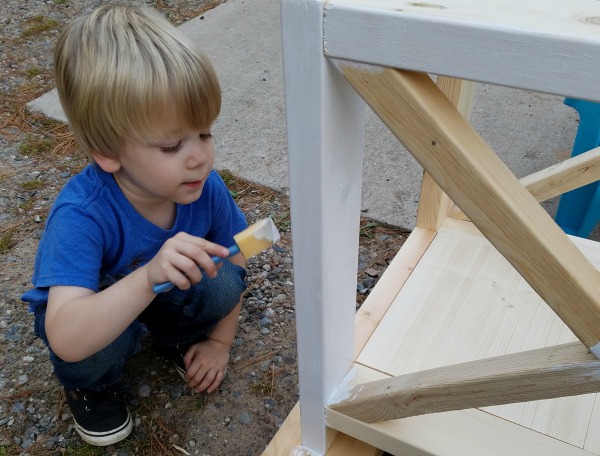 Overall, I could not be happier with the results. Now I think I have to make myself a set, because I am in love. The tables themselves only took about 3 hours each to build. The primer, paint, stain, and poly are what take the most time. Between the lumber, hardware, and pocket hole screws I purchased, the project only cost $100, but would be more if you also needed to purchase primer, paint, stain, and other painting supplies. We keep those on hand in bulk, so it is hard to predict how much extra you should budget, but I would guess about $25-$30 in supplies. If you have a miter saw and a kreg jig, you can make these too!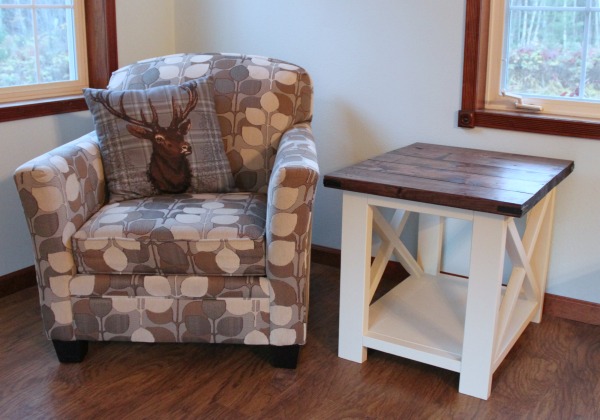 Please follow and like us:
---
---
---