---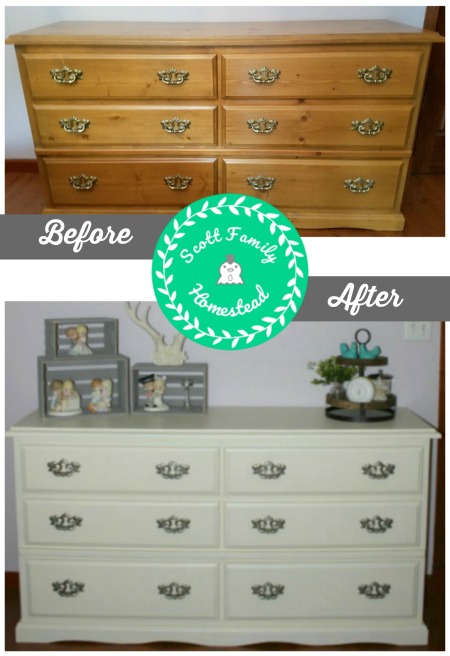 I picked up a dresser a couple of weeks ago at an estate sale and couldn't wait to get it painted and put into our master bedroom! We haven't had a dresser in our room before and it has added much needed storage. Last year we put Micah's crib and rocker in the master to keep him close, especially because he had acid reflux and would often wake up coughing or gagging. Keeping him close was a blessing, but now he is doing well in his own room and we have a bit of space back.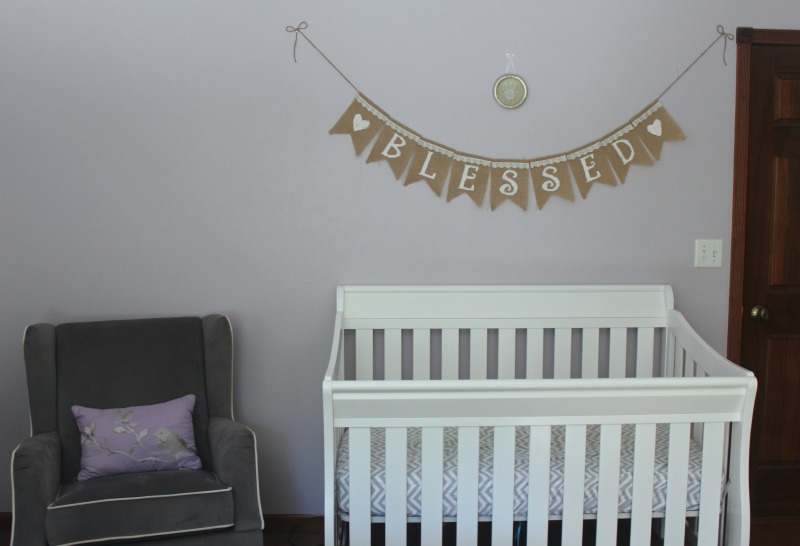 We currently have an antique white farmhouse bed and end tables. We also have a small fireplace and mantel. The room is a light lilac color (husband approved) with a darker purple accent behind the bed. The pine dresser definitely didn't match the room, but it was a steal at $50. I already had paint to match the bed, so after $10 in primer and sanding pads, we were ready to go.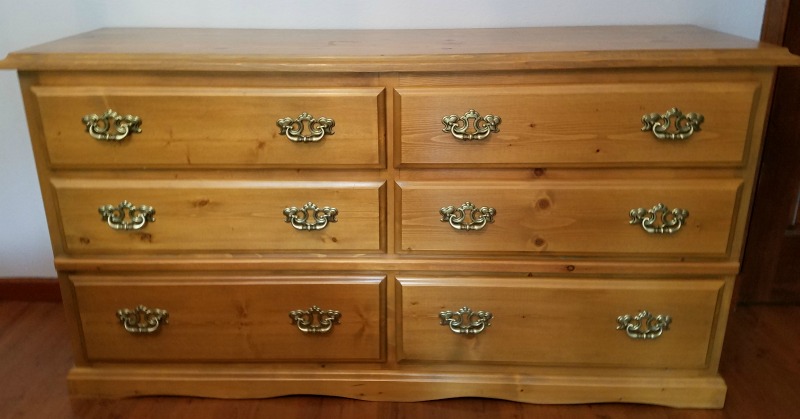 Of course, I couldn't have gotten the job done without my helpers. Harrison helped take the hardware off, sand the drawers, and even helped with paint. Micah helped me give the dresser a good cleaning after sanding. They might slow the job down a little, but they love to help and I would never turn that down!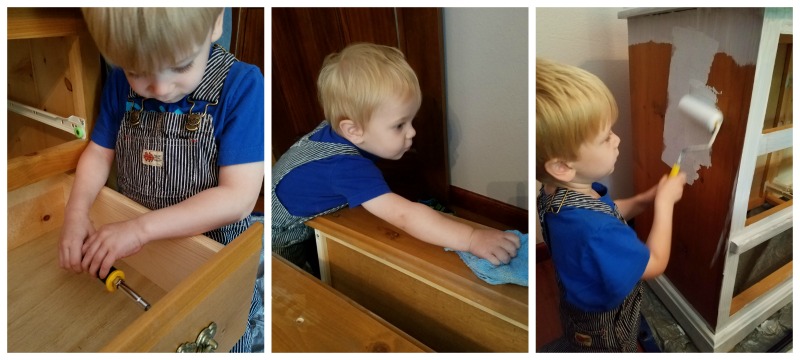 The key to a good coat of paint is a good primer, especially when you are trying to hide dark spots or knots. After a light sanding and coat of Zinnser 1, 2, 3 primer/sealer, I used dutch boy self priming paint in Antique White. This is my favorite shade of white and is currently the color of our kitchen, as well as several pieces of furniture.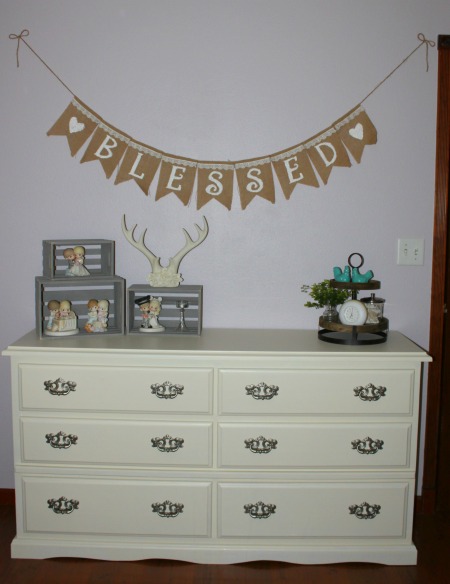 My original plan was to replace the hardware. The bronze hardware made the pine dresser look dated. I looked online and in stores for new hardware, but everything I liked was in the $5 range, which would double the investment in this dresser. I decided to try spray painting with some paint I had on hand.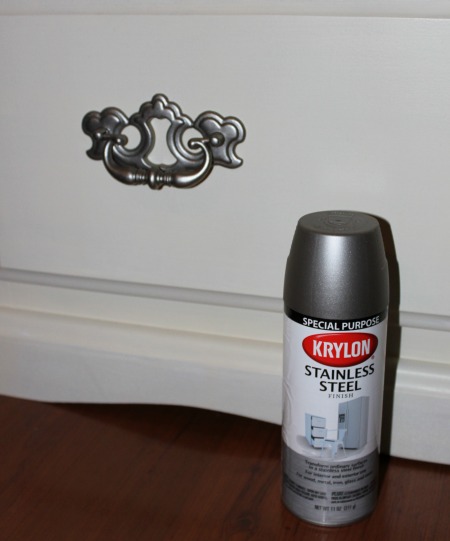 I actually love this hardware in this color more than any of the expensive options I looked at. It seems very elegant with a new coat of paint. This is also the first time I used this krylon spray paint, and it is love.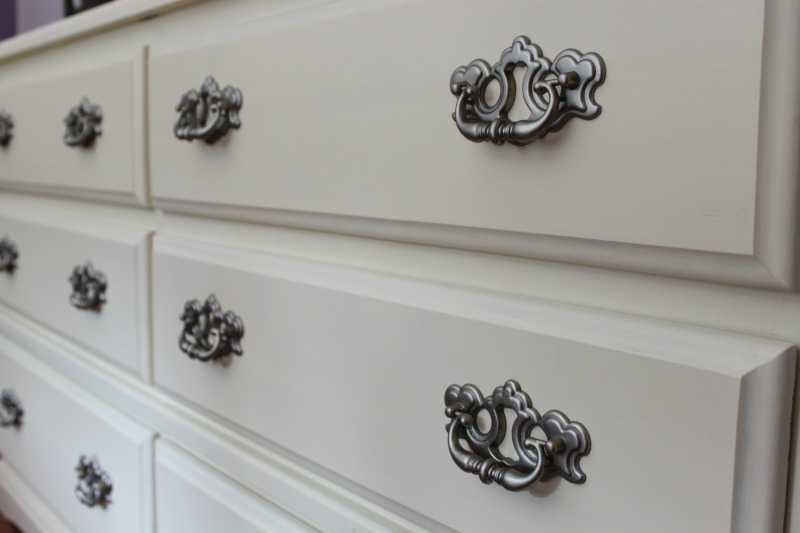 To finish off the project, I made a little trip to Hobby Lobby. I haven't had a place to put my Precious Moments and didn't find much online for ideas. I know they aren't as popular now as they once were, but each one has a special place in my heart and I want to display them. I found some nice grey crates that contrast nicely and they could actually be hung up on the wall if we decide to go that route.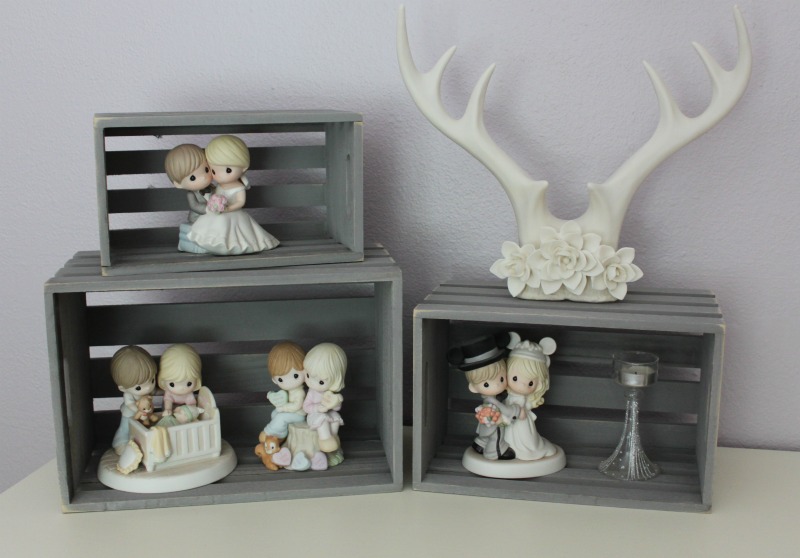 I really like how the master bedroom is coming together. We have slowly been adding to the room to make it our own and with 2 crazy boys, we look forward to bedtime now more than ever. I will be doing a little update on the rest of the room soon, so stay tuned!
Please follow and like us:
---
---
---