---
I'm still playing catch up and I loved Harrison's Noah's Ark themed party, so I have to share! Again, more cell phone pictures (gasp!) but you get the idea.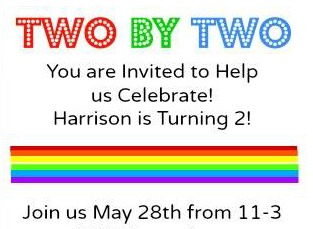 In true Noah's Ark style, it rained all day so we were stuck inside. We still had a great time celebrating our little guy. Carrying the rain and rainbow theme throughout, these decorations were so fun.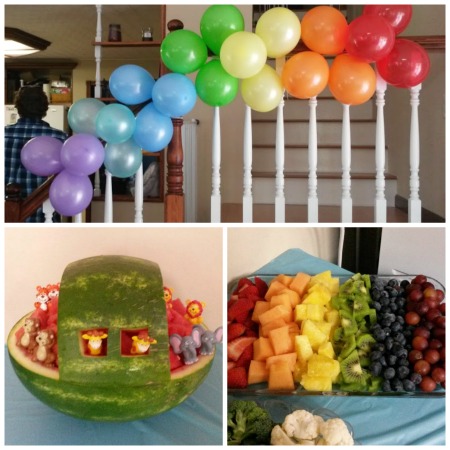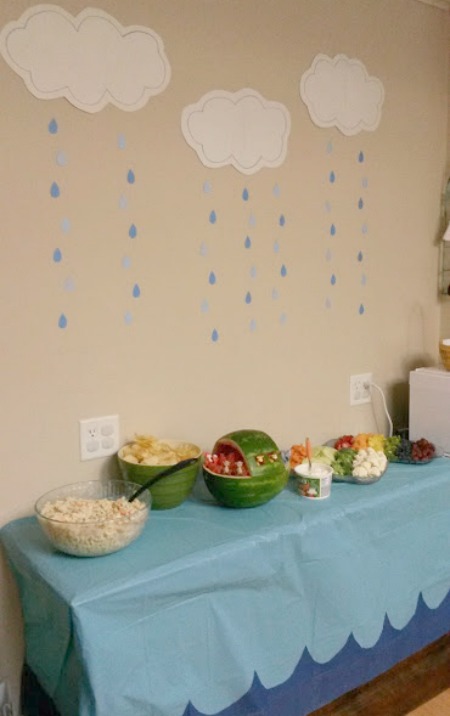 Of course, no party is complete without an ark…and cake. I decided to try to make the cupcakes myself and they actually turned out pretty cute! Our local grocery store had organic animal crackers on sale and they were delicious. (If you are making these cupcakes, make sure you wait to put the crackers on because they will get soggy if you put them on the day before!)
We also made an animal cracker trail mix, but I will warn you, the m&ms sink! So if you are a chocolate fan, let the other guests at it first!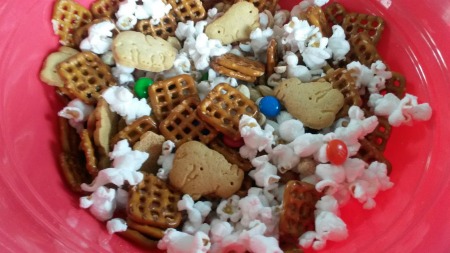 I had to get a bit creative with some of the decorations, but we had leftover gift bags from when Harrison was born that had animals on them. They worked great for our utensil and drink bowls. With just a little cutting and taping our serving dishes looked custom made.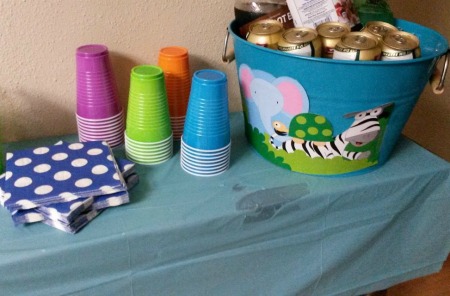 I had a great time and I hope our guests did too! Thank you to everyone who made the day great! Harrison is lucky to have such great family and friends!
Please follow and like us:
---
2 kids have really pulled me away from blogging lately, but I'm going to do some catch up posts over the next few weeks and dive back into blogging. Let's take a step back into May, shall we? Most of my recent pictures are taken with my cell phone camera which desperately needs updating, but you'll get the idea.
Our living room has an interesting set up for the TV. Above the fireplace is a large cubbie for a TV and DVD player, etc. Outlets, light switches, and other controls are found in the space above the fireplace. Very convenient, but very cluttered.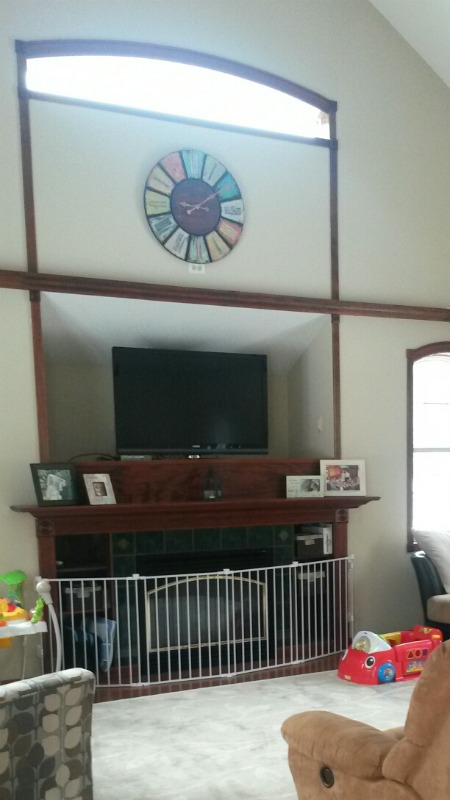 It is really easy for the space to look messy with extra cords, DVDs, and games. After months of thinking of every possible storage solution (bins, shelves, a wall) I finally thought of an idea. I didn't want to lose the space but wanted a nice clean look. We are also slowly trying to give the house a more "farmhouse" look. The solution ended up being a shiplap wall with hidden doors so we can still use the space. Sounds simple right!? Of course, we decided to undertake this project 2 days before Harrison's birthday party (you will notice his decorations in some of these pictures).
We started by framing in the opening so that we had something to attach the doors and boards to. You can see what a mess the space had become around the TV.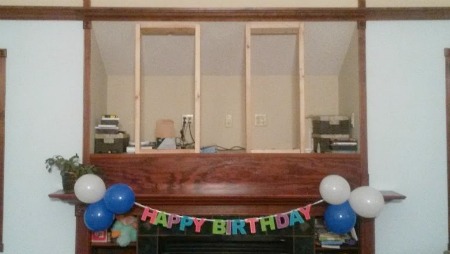 Next we laid out our various boards and painted them white. We used different sized boards including 1×4, 1x6s, and 1x8s to fit the space. Once we had the layout decided we were able to start working on the hidden doors.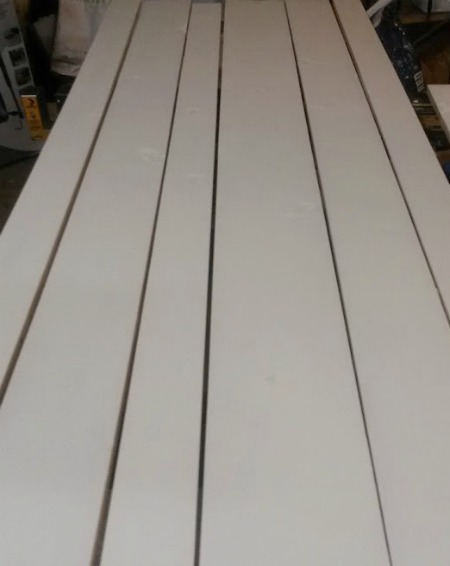 In order for the doors to be hidden they needed to be cut to different lengths. If they had a straight cut it would be obvious where they are.We made both of them symmetrical and just used a board on the back to assemble. A kreg jig could also be used for this step.
The doors pivot on a hinge outside the edges of the TV so they won't rub or hit the TV as they open and close.The length of the doors doesn't matter except that it will swing into the opening behind the TV and we still want to utilize that space, so it needed to be short enough. In the lower corners the doors have magnet closures, but you can see in some pictures they will also need magnets on the top corners to pull it evenly.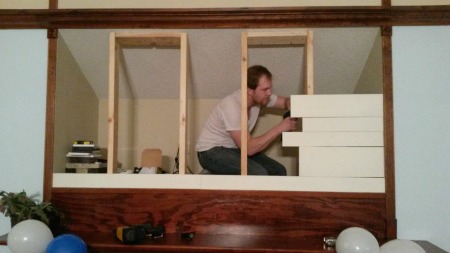 Once the doors were installed we were able to fill in the gaps with the remaining lumber. We made some random cuts to give it a look of being pieced together, which also makes the doors look more natural. Then we hung our TV with the proper mounting equipment.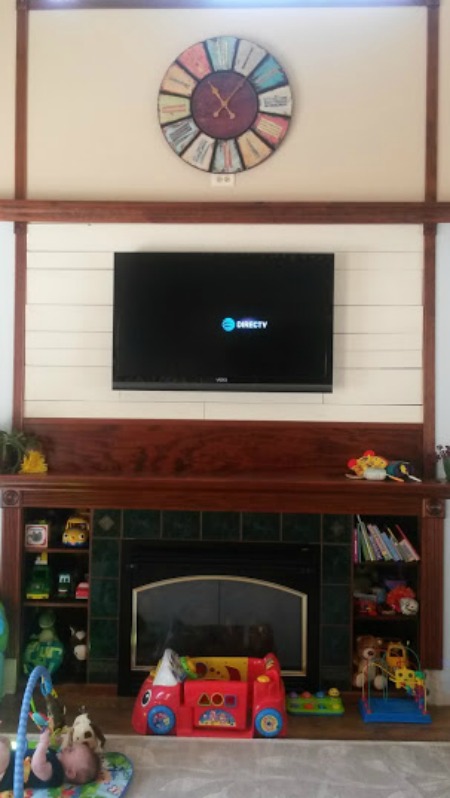 We still need to find a storage solution for the toys and books, but at least the DVD storage is nicely hidden and organized. (Bonus Finding Nemo shot.) Some fabric bins should do the trick for the toys, but I'm looking for the perfect ones.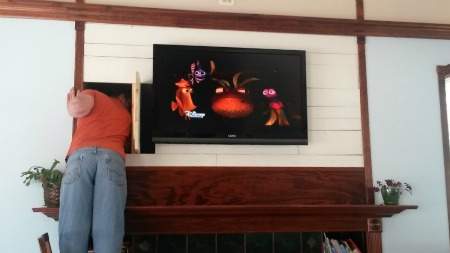 The green tile around the fireplace has got to go (I'm thinking stacked stone) and the upper half of the living room still needs paint, but this room is really starting to come together and reflect our taste. Once the doors have the second magnet closure installed the doors will be even less obvious. I'm so happy with this solution because the mantle becomes more defined and will be fun to decorate now that the space looks less cluttered.
I have some more updates to post, including Harrison's 2nd birthday so keep an eye out! Thanks for reading!
Please follow and like us:
---
It's that time again and boy, is our baby getting big! Weighing in right around 16 pounds and already around 25 inches Micah is growing right along the 90% growth curve.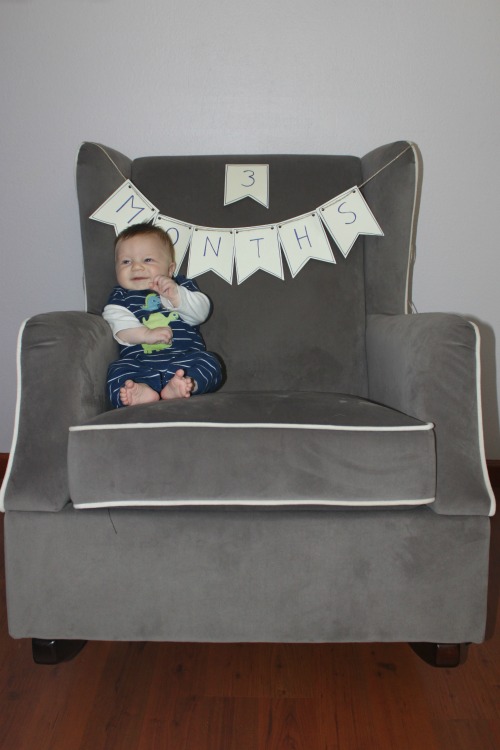 Ryan tried a 6 month onsie on Micah and concluded that we needed to get out the 9 month clothes. I disagreed, but put on a 9 month sleeper only to find that is fits perfectly. Harrison always wore clothes that matched his age so most of the clothes we have in that size are sweaters and fleece. After a bit of a shopping spree Micah now has some clothes that fit, hopefully for more than a couple of weeks!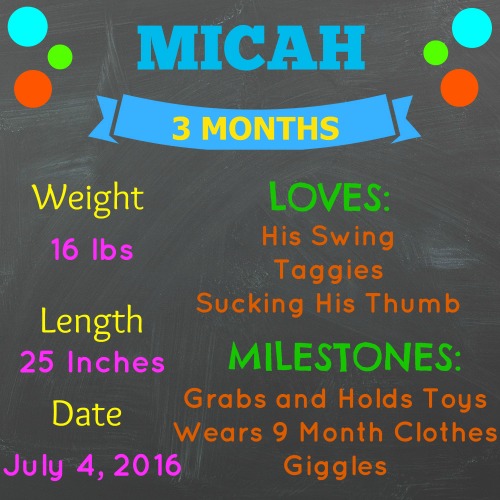 We have tried to get Micah to take a pacifier but it turns out that he prefers his thumb. Now that he has more control over his hands he can find it easily. He is also getting really good at grabbing and holding his toys. He is much more easily entertained now!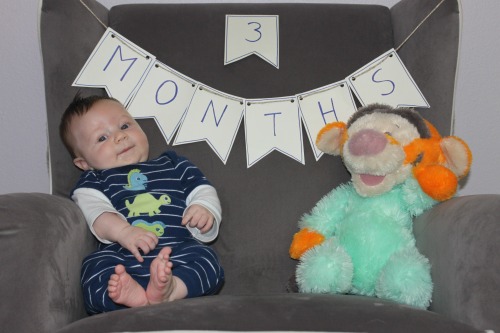 Micah loves to watch and play with his big brother. He has started to giggle and smiles all day long. Harrison insisted on being a part of Micah's 3 month pictures. They are going to be such good friends (at least until Micah starts to steal Harrison's toys).

Thanks for reading! More updates coming soon!
Please follow and like us:
---
---
---