---
Now that we have finally settled in, I can introduce our son Micah Miles Scott! Micah was born April 4, 2016 with a full head of hair! He weighed 9 pounds even and measured 22.5 inches! The nurse didn't believe it and had to measure him twice just to be sure. He came one week early due to an induction so that he could be monitored for some kidney issues.
Micah has kidney reflux caused by a "torturous ureter". Basically, the tube from his left kidney to his bladder is very long and winding, which allows fluid to flow backwards to the kidney. It may be something he grows out of or he may need surgery at some point. Thankfully his kidneys are doing ok for know and we just need to continue to monitor him for the next year or so. He takes antibiotics every day to prevent infection, but he doesn't seem to mind them.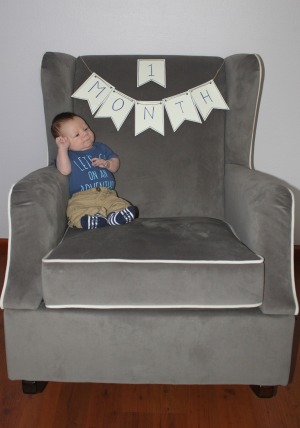 I blinked and Micah is already a month old. He is a chunky monkey and weighs more than a pound more than Harrison did at this point. He is very strong and holds his head up great. He absolutely loves his big brother and his big brother loves him. Harrison asks several times a day to give him kisses or wants to help settle him by giving him his pacifier. It took a couple weeks to get to this point, but I think they really are going to be best friends.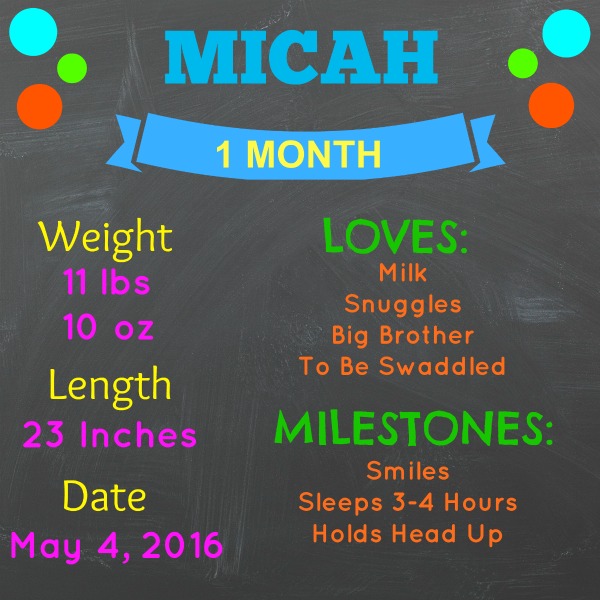 A monthly post wouldn't be complete without a Tigger picture!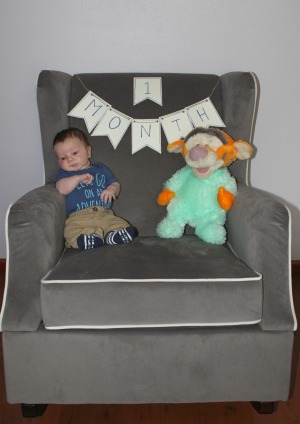 I will continue to update and hope to get back to blogging more as things settle down! In the meantime, check out our Facebook page for more updates, pictures, and videos!
(To compare, check out Harrison's one month stats from nearly 2 years ago!)
Please follow and like us:
---
---
---