---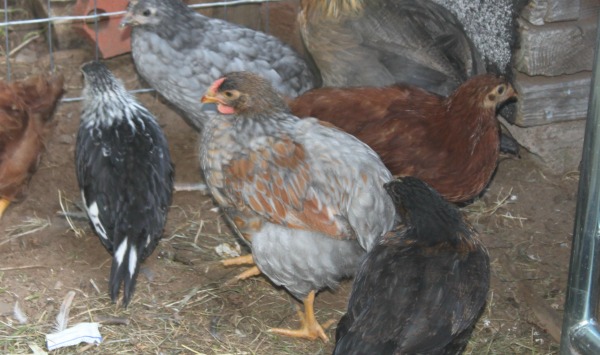 For two months now, I have been worried we have a rooster in our bunch.  We are only allowed to have our chickens in town if no one complains, and I am worried that a rooster would ruin that for us.  The hatchery we ordered our chicks from guarantees hens, except with the rare breed they gave us for free.
I have had suspicions about Stella from the very beginning, but Ryan swore we only had hens.  This morning, our rooster started crowing.  While we worry whether the neighbors will be upset, having a rooster really is a good thing.  We can have fertilized eggs now.  Fertilized eggs are healthier to eat and can be hatched out for new chicks.
We believe Stella is a Blue Laced Red Wyandotte.  He is a beautiful and large bird.  Stella has become my favorite chicken, so I will be very sad if we have to see him go.  Now that she is a he, Stella needs a new name (and hopefully not a new home).
This morning I got the camera out, and the chickens all came running!  Stella is the beautiful gray and brown bird in the middle.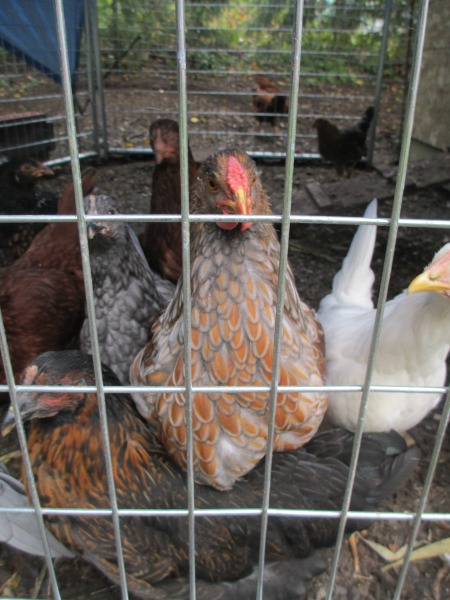 I'm loving the two chickens in the background of this picture.  Looks like someone is the talk of the coop today.  Maybe we weren't the only ones fooled: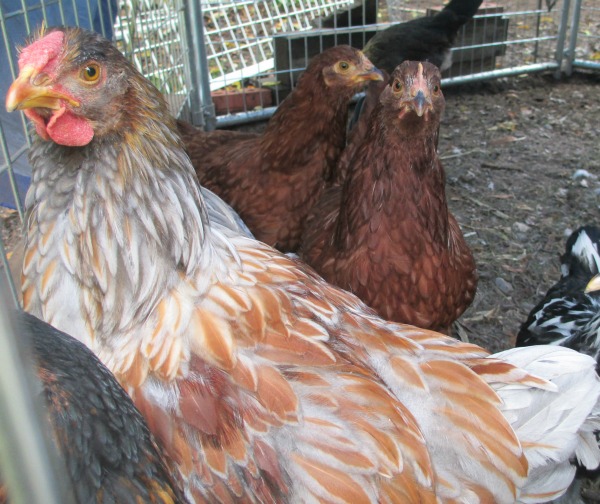 Look at that wattle and comb!  That was my first clue a couple of weeks ago, but Ryan assured me it would lay eggs.  I guess we don't know much about chickens, but we will keep learning.
Please follow and like us:
---
I was going to give you an awesome tutorial on how to paint your front door.  Instead, I'm going to share my failure with you.  Today is just one of those days.
I wanted to pick a bright, bold color for our exterior doors.  I decided on a blue that was labeled as a "2013 Trending Color".  Who can go wrong with that?  So I bought "Lapis Enamel" in Dutch Boy exterior door and trim paint.
I painted 2 coats on the door yesterday and let it dry in the sun.  It looked great and had an awesome glossy finish.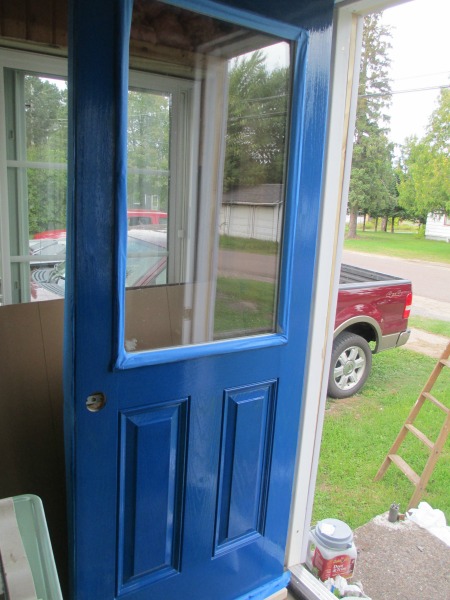 Before I went to bed, I checked the door and made sure it wasn't tacky or wet.  The paint seemed perfect and we put the door knob back on.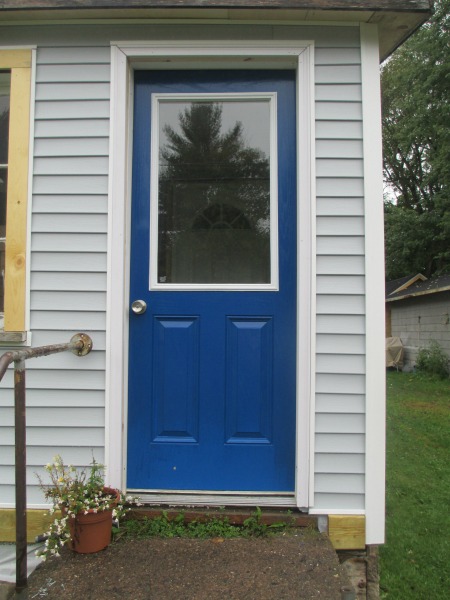 Looks pretty good huh?  Wait, what's that at the bottom?  Oh, there's water on the paint.  Must be from that mist this morning.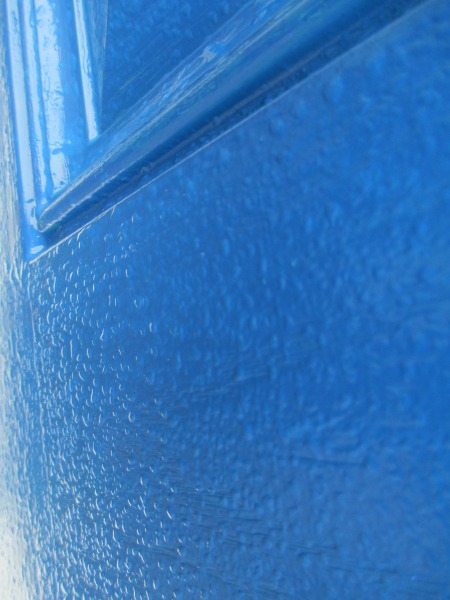 Ryan and I grabbed a rag to wipe the water off and make sure the color didn't fade because of the water.  That's when the paint bubbles started to wipe right off.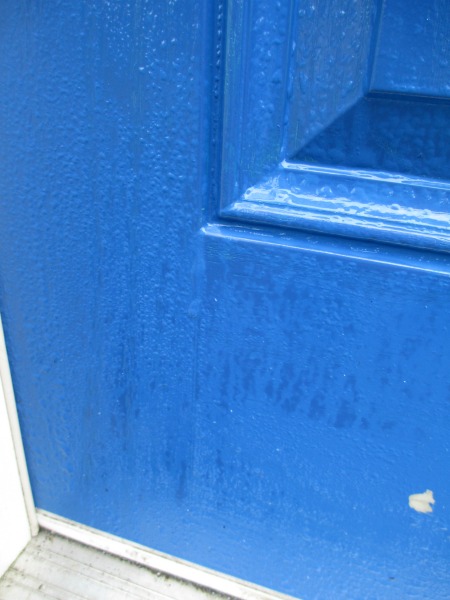 It looks like I will be sanding a repainting the door this week!  Even though the door was dry last night, it rained enough to bubble the paint.  I really would have thought the 8+ hours would have been enough, but I suggest painting when there is no rain in the forecast.  Otherwise, you can take the door off of the hinges and paint inside your house or garage.  We only had a slight chance of showers yesterday and I thought we would be safe, but I won't take the chance again!
Please follow and like us:
---
I hope everyone enjoyed their Labor Day weekend!  I sure enjoyed watching the boys work hard on the siding.  We had cold and rainy weather that was perfect for siding.  Ryan and my dad worked really hard and got a lot done.
As a reminder, here is what we started with: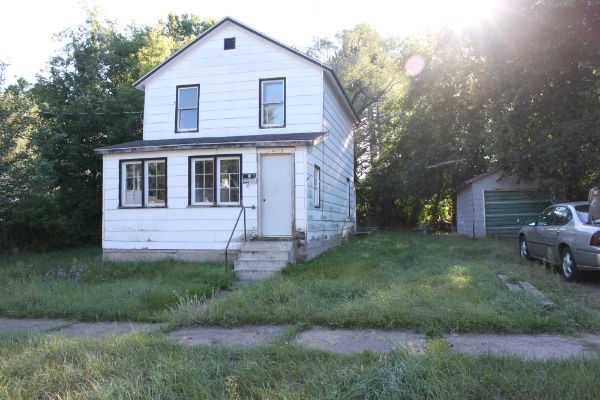 Then we pulled off the white siding and replaced all of the windows and doors (except the old porch windows):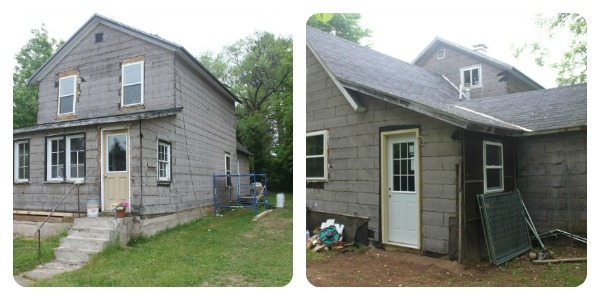 Now the house looks completely different:
We will be painting the eves and trim white.  I will also be fixing up the front windows.  We will also be adding a small deck on the front of the house to cover up the cement steps.  I can't imagine what it would take to try to remove those steps.
The sides of the house need more work, but the back is the real problem.  We have to build out some areas with furrow strips before we can start siding.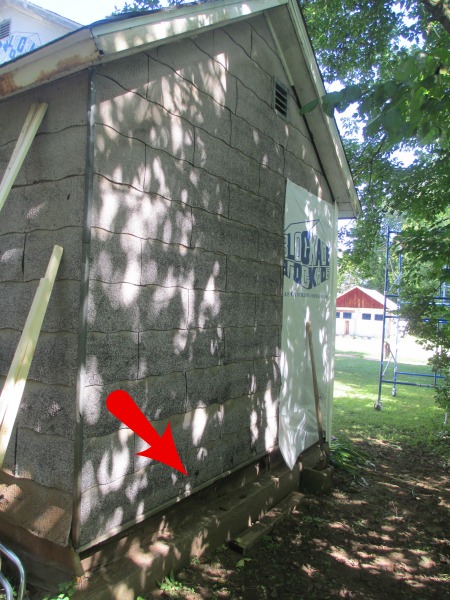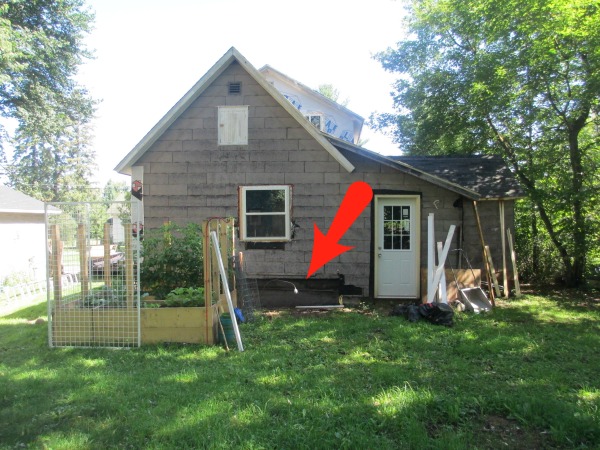 (Don't mind all the junk in our backyard.)
We still have a ways to go, but it really makes a big difference.  At least the neighbors can finally see the hard work we have been putting in.  People used to stare because it looked so rough, but now people stop to stare because it looks so nice!  More updates to come soon.
Please follow and like us:
---
---
---