---
Here it is! The kitchen flooring is installed.  We are so close to having a finished kitchen.  We just need some trim and other finishes and we will be done!  Unfortunately, the trim won't come until the other rooms get flooring too.
We decided on putting in a dark laminate flooring.  The installation is pretty simple.  The hardest part is cutting the pieces to fit around corners and edges, but after that it is very straight forward.
The planks lock together with tongue and groove: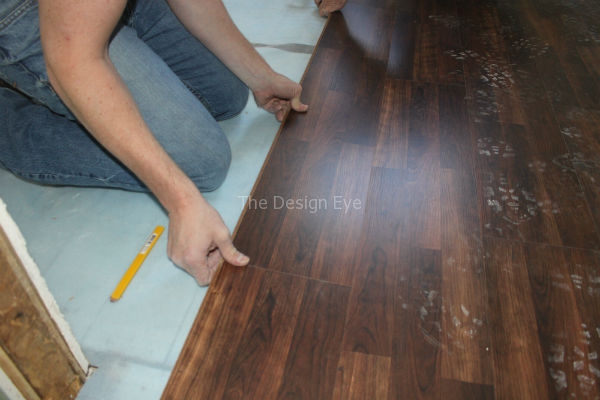 After they are locked together, you use this tool to tighten up the joints while tapping with a hammer: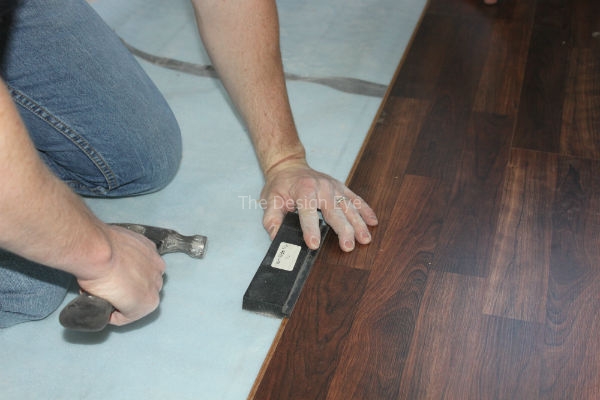 That's really all there is too it!
In our current apartment we put in laminate flooring, but in a light shade.  I wanted to have a bigger contrast in the new house, so we went dark.  I couldn't be happier with the color, and it looks even better in person.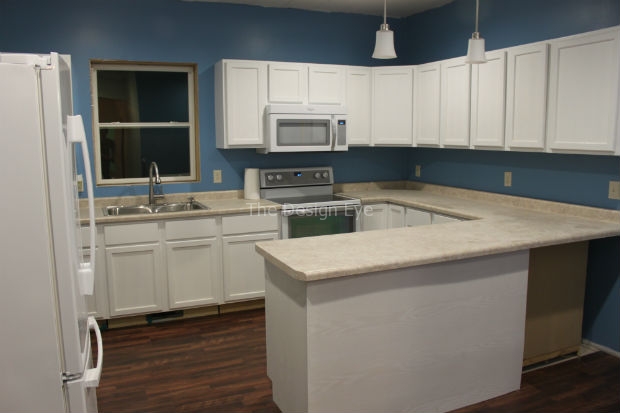 We also got our faucet installed.  Since we don't have a dishwasher we put in a nice large sink with 2 basins so we can hand wash out dishes.  We found that we rarely use our dishwasher in our apartment and hand wash anyways.  There is still the option of a dishwasher down the road, but we don't want one right now.  Check out this sink: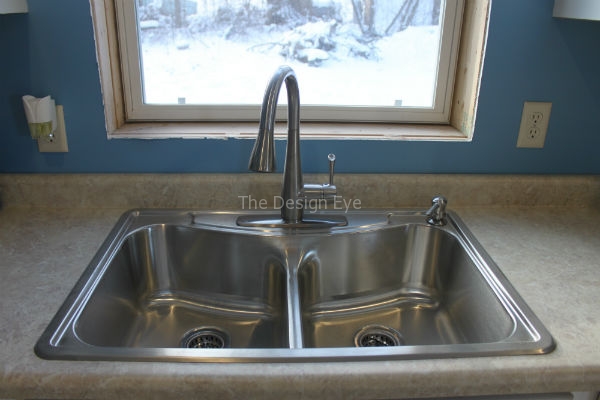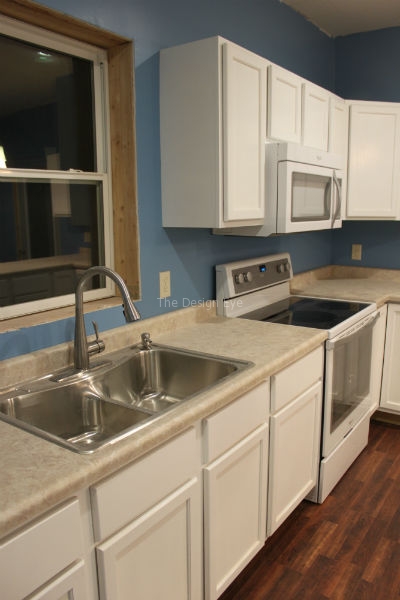 The kitchen flooring flows right through the hallway and into the dining room: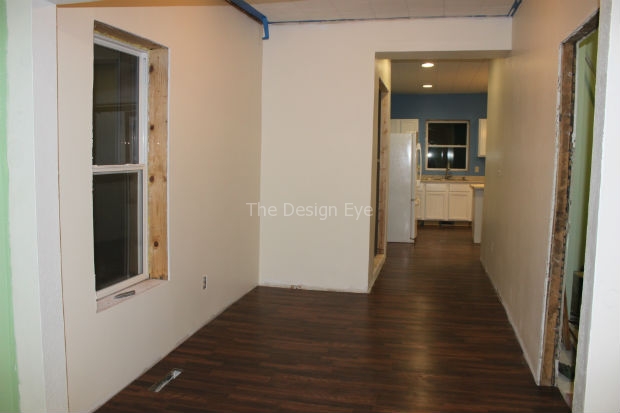 This is one of those projects that changes the whole look of things.  We are starting to get our momentum back after the holidays and hope to have even more updates soon.  Thanks for reading!
Please follow and like us:
---
Growing up, my parents house was painted completely white with only one exception, my room.  It drove me crazy growing up.  In our house, color is everywhere.  From the blue kitchen, to the purple bathroom, to the green living room.  I love the colors, but I'm starting to realize not everyone would like to live in my colorful house, just as I didn't like the all white house.  Here is the green living room freshly painted with the first coat: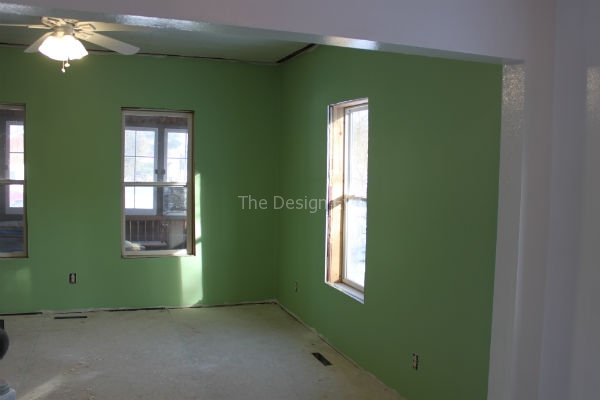 The wall in the living room with the fireplace mantel will be cream colored, but the rest will be this green color.  I picked out the color (Long Meadow by Dutch Boy) a couple months ago and have been nervous I wouldn't like it ever since.  I finally put the first coat on 2 walls just so I could get a good idea of what it would be like.  Just like the kitchen, the color seems really intense at first.  I think some nice curtains and trim will soften the look.
There is still some painters tape in this picture for the dining room paint, but here is a look through the house to see both the green and blue (Summer Fun Blue by Dutch Boy):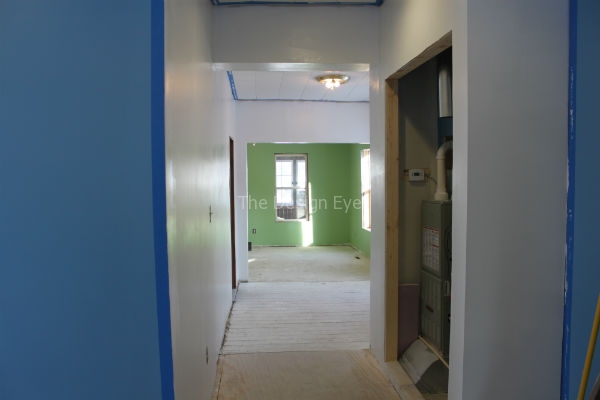 The dining room is white, so my parents can at least enjoy dinner at our house 🙂
Please follow and like us:
---
We were able to get a lot done over the holiday break and I am so excited to show all of our progress.  I will be posting a few different posts within the next week, so check back soon!
We started out the week by working on the dining room drywall.  We attempted to salvage some of the old drywall in the dining room, but it had a knockdown texture.  Since we had new drywall meeting the old and some patch work done, we knew we would either have to cover it up or scrape it off to make it match.  We considered textured wallpaper but were not to happy with the price to cover a space as large as we needed.  I was not sold on the idea of scraping off texture because it would be such a mess.  Finally, I decided I would just try to cover it up with drywall mud since the texture was relatively flat to begin with.
The process was slow and messy, but I eventually got the walls coated in mud.  It took a lot of mud and drying time, but turned out pretty good.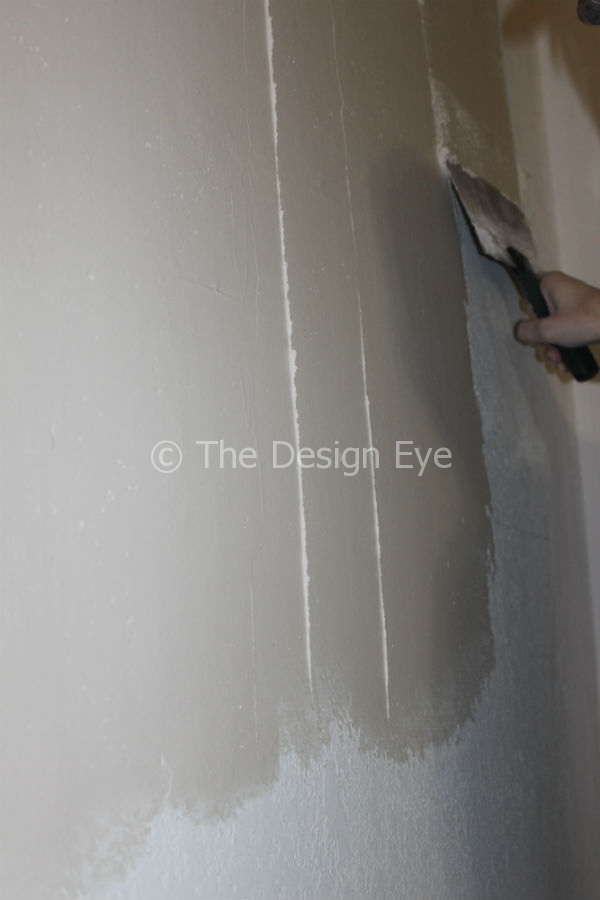 *Tip* Apply the mud nice and thick at first and then use more pressure to get rid of any bubbles.  When it is thick you are less likely to hit the texture when you smooth out the mud.
So far, sanding these walls was the worst job that I have done in the house.  The walls turned out incredibly smooth (way better than I expected) but the dust was unreal.  The walls needed some patching, especially where there were a lot of bubbles in the mud, but after the initial sanding the job was much easier.
With textured walls it would be easier if you scrape the walls first, but I have read that you should still coat the walls in mud afterwards.  Honestly, in this case I think it would have been easier to tear out the drywall and put new in.  My concern was that we would get into slat and plaster underneath and have a bigger mess than we wanted to deal with.  Overall it turned out great, it just wasn't much fun.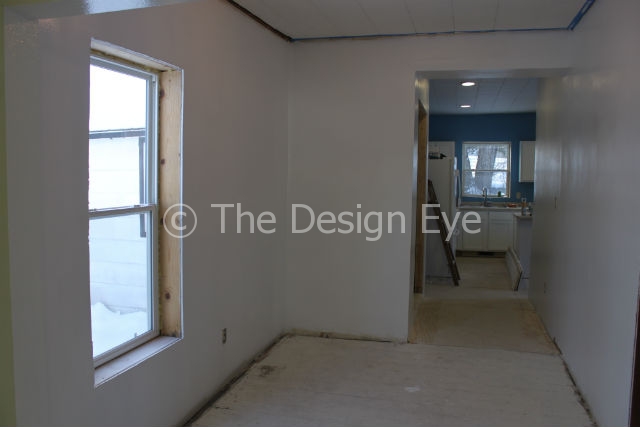 After the sanding I primed the room to make sure I was happy with the drywall.  It looked great, so I went ahead and applied our new texture.  I bought 3 cans of spray on orange peel texture.  I bought the kind that goes on blue and dries white, but the blue barely showed up, so I don't recommend it for the extra cost.  The texture is subtle but gives our white walls more depth.  After applying the texture I primed and painted.
We also got our kitchen and dining room flooring installed so more pictures will come when I get that post put together. Thanks for reading!
Please follow and like us:
---
---
---